You are currently browsing the category archive for the 'Merchandise' category.
About
Mini Champagne Bottle Labels (7.6 cm x 5.1 cm)
Easily customise mini champagne bottles and make it 100% your own.
Perfect for weddings, birthday parties, and baby showers.
Dimensions: (7.6 cm x 5.1 cm)
Each set includes 10 matte labels
Scratch-resistant and waterproof
Vibrant, full-colour, photo-quality printing that stands the test of time.
Easy peel-and-stick method; labels are easily applied by removing the crack and peeling back to expose the permanent adhesive
No, I'm not sure exactly what they mean by 'removing the crack' either!
Source: Halloween: The Final Frontier Mini Champagne Labels
Take care and keep laughing!
This cushion, Mirror Image, is my current favourite. In other words, I'm showing off in public how much I like and enjoy my work! A pleasingly large number of these images are best sellers in one form or another. As for the ones I like least, there are quite a few I'd delete at the drop of a hat but I can't because these are also bestsellers!
'Seven years ago, a hesitant sonographer informed my husband and me that our second baby was identical twins. Our shock was seismic. We didn't know any twins or anything about twins. Frankly, we weren't even quite sure how we'd managed it. Separately and instantly, we came to the same conclusion: we'd need a new car, probably a new house and certainly a new job to pay for it all, which … '
Nine Things I Have Learned From Having Twins
I won't tell you how many hours I've spent trying to make the slideshow and accompanying caption clickable. I've given up for today! Here is the link writ large:
Take care and keep laughing!
Features:
Custom printed for pretty much every special thing there is
Digitally printed cards on heavyweight stock
The uncoated blank interior provides a superior writing surface
Each card comes with a kraft envelope for mailing or gifting
Source: "Give Thanks at Thanksgiving" Greeting Card @ Redbubble
Take care and keep laughing!
Features
Vibrant double-sided print throw pillows to update any room

Independent designs, custom printed when you order

Soft and durable 100% spun polyester cover with an optional Polyester fill/insert

Concealed zip opening for a clean look and easy care

Note: Some designs are not available in all sizes.

We recommend using inserts/fills that are bigger than the covers to ensure a plump finish
Source: Extreme Vogue Throw Pillow Cover @ Redbubble
Take care and keep laughing!
The original photograph is by Joshua Hibbert at Unsplash and I had enormous fun changing the dimensions of each element and layering the result with a couple of my textures, one orange and…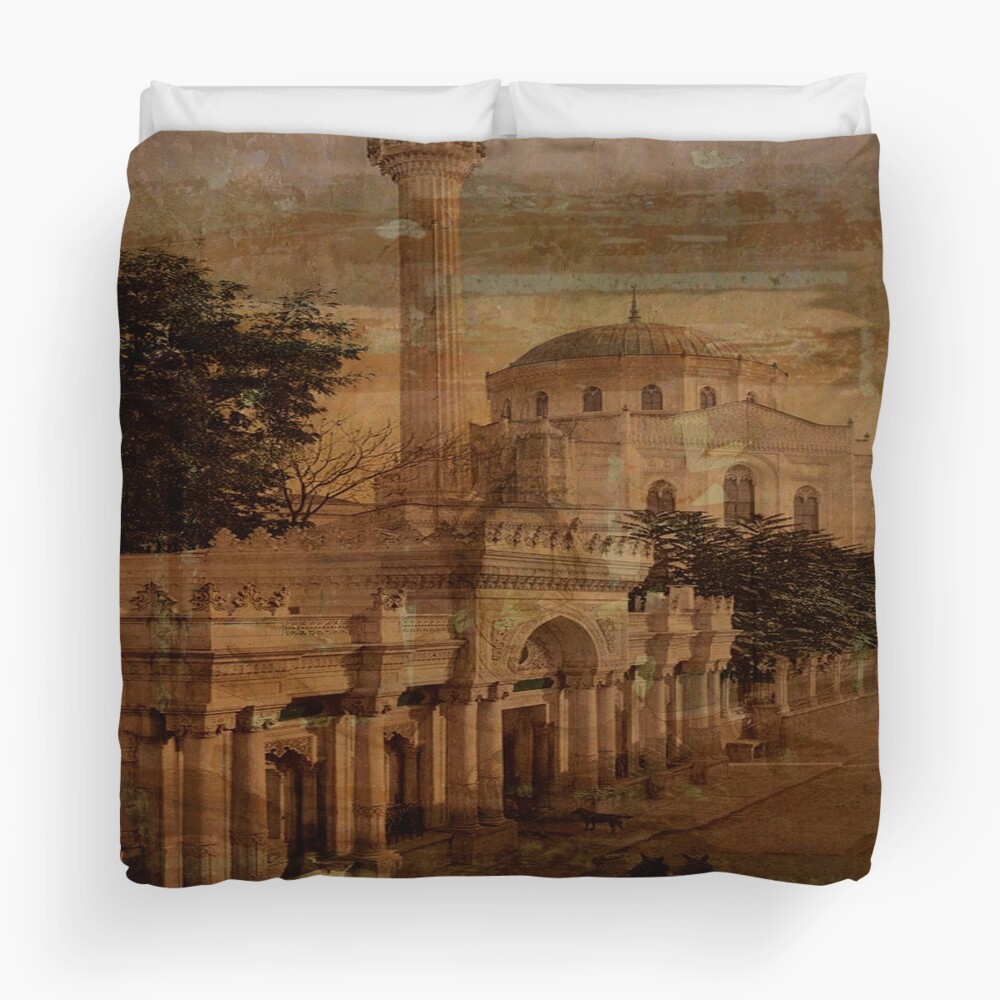 Features
Duvet cover with vivid, full-colour print on front, white on the back

100% polyester top, 50% cotton / 50% polyester back

Concealed zipper opening and internal insert ties for easy assembly

Available in multiple sizes from twin to king. Twin size fits most extra-long college dorm beds; check sizing guide for detailed measurements

Note: duvet insert not included

Machine washable
Source: Constantinople King Size Duvet Cover  @ Redbubble
Take care and keep laughing!
Update: I meant to say that if you love classic movies, Silver Screenings is a must-visit blog.
"Dah-ling! Thanks for the shout out!

And look at the treats that arrived today!" pic.twitter.com/EkgX8sc8gw

"I love, love, LOVE them. And good quality, too."

— Silver Screenings (@925screenings) August 8, 2020
Thank you so much, Silver Screenings!
Take care and keep laughing!
This is a portrait of the transgender artist Lili Elbe painted by her lover, artist Gerda Wegener, circa 1928. I have altered tone, colour and contrast in order to ensure the picture more closely resembles the original. The image is from Wikimedia Commons.
'Lili Elbe was a trans woman. She was born a male in Denmark in 1882 and named Einar Wegener. She married Gerda Wegener: they were both painters. She changed sex and was called Lili Elbe. Elbe had several surgical operations to reconfigure her genital organs and died in the course of her fifth operation.' [Flickr]. Click here for more information.
Available at the following galleries:
Redbubble
Zazzle US
Zazzle UK
Fine Art America [14 fulfillment centers in 5 countries]
Saatchi Art
Take care and keep laughing!
If you knew just how many names I considered before settling on Drop Anchor at Sunset, you would chuckle. Even now, I might change it!
I used a public domain photograph from Wikimedia Commons – Voilier "Vents du Sud" sur le Plan d'eau du Vidourle – Le Grau-du-Roi (Gard, France)
by Christian Ferrer – as my jumping-off point. Next, I used a couple of my textures and topped it off by adapting one of Kerstin Frank's sublime background pieces.
Available at the following galleries:
Redbubble
Zazzle US coming soon
Zazzle UK coming soon
Fine Art America [14 fulfillment centers in 5 countries]
Saatchi Art coming soon
Take care and keep laughing!