You are currently browsing the category archive for the 'Cinema' category.
Long before there was Paddington Bear, Shaun the Sheep and Peppa Pig, there was Winnie the Pooh. For over 90 years, the bear with very little brain and his friends Piglet, Rabbit, Owl, Tigger, Kanga, Roo and Christopher Robin have entertained and enchanted both…
via Exhibition Review: Winnie the Pooh: Exploring a Classic (V&A) | Enough of this Tomfoolery!
Though known as the "grandmother of the French New Wave," for decades 88-year-old Agnès Varda felt she wasn't allowed to be an artist. Looking back, the filmmaker realizes it was something she had always desired: she had studied art history at the École du Louvre and photography at the École des Beaux-Arts, was friends with artists, and had been following the work of many others since the age of 18. But in France, especially, she was pigeonholed. "They put me in the drawer as a…
Source: Grandmother of French Cinema Agnès Varda on Becoming an Artist at 88
Inspired by Edward Steichen's portrait of Hollywood actress Gloria Swanson covered in lace (Museum of Modern Art).

Orientation: Postcard
Create your own vacation-worthy postcards right here. Any view you've seen, any monument you've fallen in love with, can all be added to our postcards with our personalization tool. Craft touching, hand-written correspondence while on your next road trip!
Dimensions: 4.25″ x 5.6″ (portrait) or 5.6″ x 4.25″ (landscape)
Full color CMYK print process
Double sided printing for no additional cost
Postage rate: $0.34
Paper Type: Semi-Gloss
A thin, smooth paper designed for photo printing with the optimal color vibrancy —a solid choice for all your printing needs.
Bright white, semi-gloss finish
Semi-gloss finish helps photos pop
40% post-consumer content
Made and printed in the USA
Source: Hollywood Vintage Gloria Postcard | Zazzle
Take care and keep laughing!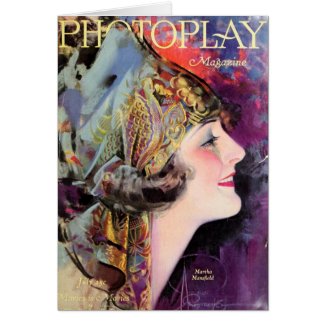 Martha Mansfield, Photoplay July 1920 Card by FirstNightVintage
Martha Mansfield [1899-1923] was an American actress who was always determined on a stage career. At the age of fourteen she appeared on Broadway in Little Women (1912), while her film debut came in 1917 with a short called Max Comes Across. She made twenty-four further films, including Dr Jekyll and Mr Hyde [1920] with John Barrymore but her life and career was cut tragically short in 1923 when she was filming a Civil War picture called The Warrens of Virginia. A lighted match was thrown in her vicinity and it ignited her costume which went up in flames. She was rushed to hospital but had sustained 'substantial burns' [Wikipedia] and died a day later. A sad story. It has never been known who discarded the match thus.
Available at the following galleries:
Redbubble
Crated
Zazzle US
Zazzle UK
Fine Art America [14 fulfillment centers in 5 countries]
Saatchi Art
Take care and keep laughing!
FROM THE ARCHIVE 15th August 2014
New in my vintage store is this wonderful black & white portrait of Tallulah Bankhead. "I'm as pure as the driven slush." "My father warned me about men and booze, but h…
Source: First Night Design | Tallulah Bankhead — "pure as the driven slush" | First Night Design
Now what on earth was I going to do for American Beauty for Week 8 of Julie Powell's makeover challenge. There have been several different covers for the film which is directed by Sam Mendes and stars Kevin Spacey, Annette Bening and Thora Birch, in which a 'sexually frustrated suburban father has a mid-life crisis after becoming infatuated with his daughter's best friend'. IMdb
I knew I wanted to avoid a rose but what was my main focus going to be? I decided it was people so I swiped a slice from Tallulah Bankhead, a profile shot of Spacey from Wikipedia and set to work, the idea being that Spacey's character is yearning for the out-of-reach schoolgirl (alright, so Bankhead was not a schoolgirl even when she was a schoolgirl). If knowing it's Bankhead disturbs you, imagine she's Spacey's wife, Bening!
To be frank, I'm not enamoured of my treatment but — as so often — time was running out and I didn't want to miss out, especially as I probably won't be able to take part next week. Fonts used were Skia Regular for Sam Mendes, Bening and Spacey, Times New Roman for 'American' and Zapfino Regular for 'Beauty'.
Click here for instructions if you would like to take part in future challenges.
Take care and keep laughing!
'Chris Neilson dies to find himself in a heaven more amazing than he could have ever dreamed of. There is one thing missing: his wife. After he dies, his wife, Annie killed herself and went to hell. Chris decides to risk eternity in hades for the small chance that he will be able to bring her back to heaven.' IMdb
When Julie Powell announced this week's challenge, I thought the film, What Dreams May Come (1998) with Robin Williams, was not one I'd seen. The original cover gave me no clue and even the details Julie gave about the movie winning the Academy Award for Best Visual Effects, the Art Directors Guild Award for Excellence in Production Design and a nomination for the Academy Award for Best Art Direction didn't conjure up the story. Only when I looked at IMdb did I realise that we saw it on television a few weeks ago and rather enjoyed it. IMdb's blurb makes it sound too ethereal for my taste but in fact, it's a film that makes you think about life, death and love in ways you might not have previously. And the landscapes are luscious.
I have used a design I'm still creating as the backdrop in a bid to show the landscapes of the film. The title font and strap line is in Seravek ExtraLight while the star's name is in Goudy Medieval Regular – perhaps a little too Gothic but I was running out of time.
Click here for instructions if you would like to take part in future challenges.
Take care and keep laughing!
Week 3 and it's a space movie for the Cover Makeover Challenge now administered by Julie Powell, photographer and graphic artist. Whether by coincidence or conscious choice, Julie has decided on a film directed by a man many of us will have thought about recently because of losing his father — Duncan Jones, son of the inimitable David Bowie.
The film, Moon, which was made in 2009 and has a staggering eight gold stars on IMDb (very rare, in my experience), stars Sam Rockwell as astronaut Sam Bell who 'has a quintessentially personal encounter toward the end of his three-year stint on the Moon, where he, working alongside his computer, GERTY, sends back to Earth parcels of a resource that has helped diminish our planet's power problems'. I haven't seen the film yet but it's on my list.
I have used a photograph of Buzz Aldrin walking on the moon (or in a film studio under the direction of Stanley Kubrick, if you subscribe to the conspiracy theory) from Wikimedia to create my cover. I used our old friend Times Regular as the font for title, star, director, and tag line, and added a bevel & emboss style as if these had been etched on the moon surface. I also blacked out the reflection on Aldrin's helmet. We wouldn't want to be able to see Kubrick's reflection, now would we!
Click here for instructions if you would like to take part in future challenges.
Take care and keep laughing!

Miss Gladys Cooper [1888-1971] in Fancy Dress Greeting Card by FirstNightVintage
---
Looking into a mirror on her deathbed: 'If this is what virus pneumonia does to one, I really don't think I shall bother to have it again.' IMDb

I do hope this is not apocryphal!
---

Miss Gladys Cooper [1888-1971] Greeting Card by FirstNightVintage
Unless you're a theatre buff, you will probably only know Gladys Cooper for her grand ladies on screen such as Bette Davis' mother, Mrs Henry Vale, in Now, Voyager or Beatrice Lacy in Rebecca.
I always find it enchanting to see how beautiful these wonderful actresses were in their younger days. Have you ever seen a photograph of Ethel Barrymore when young? I think you'll be surprised. Which reminds me that I have a terrific theatre postcard of her brother John with which I must do something before the century turns.
Available at the following galleries:
Zazzle US
Zazzle UK
Take care and keep laughing!