You are currently browsing the tag archive for the 'window' tag.

Size: Fleece Blanket, 60″x80″
It's hard to cuddle by yourself. But with these fully customizable comfy fleece blankets, you won't have to anymore. Customize the entire front panel and wrap yourself in personalized plush luxury. Delicate, soft and colorful, it's the perfect blanket for picnics in the park, outdoor events, and cozy winter snuggles.
Available in 3 different sizes: small (30″x40″); medium (50″x 60″); large (60″x 80″)
100% buttery soft and cozy polyester fleece
Edge-to-edge sublimation printing in vibrant full color
Sturdy double edge stitching for a clean finish
Back color is off-white
Machine washable, gentle cycle, mild detergent
Tumble dry low
Source: Through a Glass Darkly Fleece Blanket | Zazzle
Take care and keep laughing!
Take care and keep laughing!
I had hoped to write an accompanying short story as the piece feels like a storybook image but the words just won't come. I wouldn't call it writers' block so much as my mind being chock-full of other stories waiting to be told!
I used a window scene from The Graphics Fairy with a texture from 2 Lil' Owls.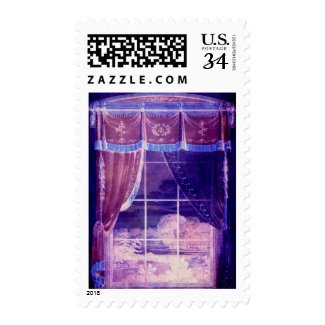 Waiting for the Dawn Postage Stamp by FirstNightDesign
---
"We went down into the silent garden. Dawn is the time when nothing breathes, the hour of silence. Everything is transfixed, only the light moves."
― Leonora Carrington
---
---
"Dawn was breaking over the horizon, shell pink and faintly gold…"
― J.K. Rowling, Harry Potter and the Deathly Hallows
---
Available at the following galleries:
Redbubble
Crated
Zazzle US
Zazzle UK
Fine Art America [14 fulfillment centers in 5 countries]
Saatchi Art
Take care and keep laughing!
---
'The confluence of perhaps the most exotic cultures in the world exist right here in this pink city. Arabian, African, and European influences are found in the streets, its inhabitants, and its monuments.' Sensational Colour
---
Marrakesh Arches Greeting Cards
I went to Morocco in 1986. A week in Agadir was not the delight my then boyfriend and I had hoped. The sky was grey, the beach was grey, and the sights were grey. We hadn't realised that the earthquake of 1960 had destroyed so much. According to BBC News, it was the deadliest in Moroccan history.
The rebuilding was typical 1960s fare and depressing beyond belief.  Marrakesh, however, proved to be a highlight and we spent two days and nights taking in the lemons, pinks and ochres of the buildings and the souks, and bought endless supplies of saffron. We also tried to sell my chap's wilful, spoilt and selfish daughter for a couple of camels. The Arabs didn't want to endure her temper tantrums any more than I did. Shame!

Marrakesh Arches Throw Pillows
Available at the following galleries:
Redbubble
Crated
Zazzle US
Zazzle UK
Fine Art America
Fine Art England
Saatchi Art tba
Take care and keep laughing!