You are currently browsing the tag archive for the 'white' tag.
Original & vintage art © First Night Design
Source: Patchworks VIII Greeting Card | Zazzle
Take care and keep laughing!
Don't ask me why but the fact that there is no way to comment on this post is obviously a WP glitch.  It's certainly not intentional. All my settings are as they should be to allow for comments so the WP gremlin strikes again. Thank you, Pete Johnson, for letting me know.
Size: Lumbar Pillow 13″ x 21″
Accent your home with custom pillows from Zazzle and make yourself the envy of the neighbourhood. Made from 100% grade A cotton, these pillows are the perfect complement to your couch!
Dimensions: 13″ x 21″ (lumbar)
100% grade A woven cotton
Fabric is made from natural fibers, which may result in irregularities
Hidden zipper enclosure; synthetic-filled insert included
Machine washable
Made in the USA
Source: Beautiful Flowers for Mother's Day Lumbar Pillow | Zazzle
Take care and keep laughing!
Known as 'The Voice of the Empire' or 'The Voice of the Century', Dame Clara Butt (1872-1936) was born in Sussex and brought up in Bristol. She became one of the most famous and beloved of English recitalists and concert singers. A 'booming' contralto, she was remarkably imposing at 6′ 2″. Sheet music, tea tray and piano from The Graphics Fairy. Other sheet music from DigitalCollageImages on Flickr. The flourish to the left is from VintageArtDownload.com and the vintage postcard of Clara Butt is in my own collection.
Source: Taking Tea with Clara Butt T-Shirt | Zazzle
Take care and keep laughing!
Style: Coffee Mug Set
It's a match made in heaven for this lovers' mug set! Made to perfectly fit together, this ceramic mug set is a great gift for a wedding, anniversary, Valentine's Day, Sweetest Day, or any other special occasion. The heart-shaped handles on each mug add an extra touch of love to this already very romantic gift! Customize with your pictures, photos, and text to make a one-of-a-kind mug set that will be cherished for years.
8-ounce capacity
Dimension: 3.8"h x 3.2"diameter
100% ceramic construction
Meets or exceeds FDA requirements for food and beverage safety
Printed on demand by the Photo USA team in Fremont, California
Source: Valentine Seahorses Coffee Mug Set | Zazzle
Take care and keep laughing!
Size: Greeting Card
Birthdays or holidays, good days or hard days, Zazzle's customised greeting cards are the perfect way to convey your wishes on any occasion. Add a photo or pick a design and brighten someone's day with a simple "Hey"!
Dimensions: 12.7 cm x 17.8 cm (5″ x 7″) portrait or 17.8 cm x 12. 7 cm (7″ x 5″) landscape
Printed on 110 lb, 12.5 point thick, semi-gloss paper
Matte finish inside for smudge-free writing
Add photos and text to all sides of this folded card at no extra charge
Printable area on the back of the card is 7.6 cm x 10.2 cm (portrait) or 10.2 x 7.6 cm (landscape)
Standard white envelopes included
Source: Make Me a Willow Cabin… Greeting Card | Zazzle
Take care and keep laughing!
Orientation: Postcard
Dimensions: 4.25″l x 5.6″w (portrait) or 5.6″l x 4.25″w (landscape)
Printed on 110 lb, 12.5 point thick, semi-gloss paper
Postage rate: $0.34
Source: Time for Tea #8 Postcard | Zazzle
Take care and keep laughing!
Paul-François Quinsac (1858–1929) was a French artist who specialised in mythological and allegorical subjects, figures and landscapes.
His painting A Beauty in Violet (1909) was the perfect backdrop to create a faux-Victorian advertisement with vintage elements from The Graphics Fairy, including an intricate twirl for a headpiece, embellished with one of my embossed flowers that I created in the early days.

Déjeuner de Luxe Flask by FirstNightDesign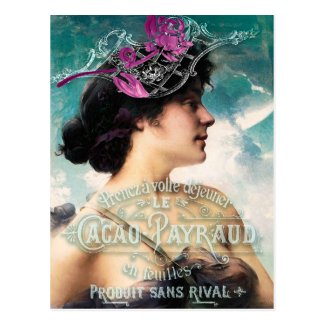 Déjeuner de Luxe Postcard by FirstNightDesign
Take care and keep laughing!
FROM THE ARCHIVE 15th August 2014
New in my vintage store is this wonderful black & white portrait of Tallulah Bankhead. "I'm as pure as the driven slush." "My father warned me about men and booze, but h…
Source: First Night Design | Tallulah Bankhead — "pure as the driven slush" | First Night Design

Flowers of Sympathy Postcard by FirstNightDesign
One of my dearest blog friends, Pete Johnson of Beetley in Norfolk, is in the wars so this is a special post to wish him well. Having said that, feeling considerably under the weather did not prevent him from writing a very funny post about his symptoms. Read and enjoy! We've all been there.
Take care and keep laughing!
This is a photograph of our own magnificent mongrel, a cross between a Terrier and a Jack Russell (we think). I have processed the image in Photoshop by adding a texture from The Graphics Fairy in order to bring out the vibrance of his fur coat and the colour of the grass, although that vibrance is missing in the screenshot of the spiral notebook below.
I never thought it was possible to love an animal as much as I love Pisch. Yes, that's his name and before you all start to comment on what it means in German, let me explain that it came about when he was rescued by a friend of ours who wanted to find a home for him. "What do you call him?" I asked. "Pisch," said our friend. He went on to say, "As in the noise you make to get a cat to go away." So there you have it. He's seven years old and I want him to live forever!
I probably wouldn't have put him up for sale, so to speak, had it not been for a Cats & Dogs Challenge at the Art Universe group on Redbubble. I'm still not sure about uploading it to the other galleries. I would have turned him into a digital painting if my GMX-PhotoPainter software was working. But it ain't!
---
'Yes, he's got all them different kinds of thoroughbred blood in him, and he's got other kinds you ain't mentioned and that you ain't slick enough to see.' – Don Marquis
♦
'He wa'n't no common dog, he wa'n't no mongrel; he was a composite. A composite dog is a dog that is made up of all the valuable qualities that's in the dog breed—kind of a syndicate; and a mongrel is made up of all riffraff that's left over.' – Mark Twain
---
Available at the following galleries:
Redbubble
Take care and keep laughing!

Make Me a Willow Cabin Valentine Postcard
Make Me a Willow Cabin was created some time ago but I don't think I've ever sold it as a greeting card or postcard or on anything, which is a shame. I'm rather fond of it.
'Make me a willow cabin…,' declares Viola to Olivia in Shakespeare's Twelfth Night. Viola, disguised as Cesario, has been sent by Orsino to declare his love for Olivia. Viola, however, chooses to give the message in her own way, telling Olivia that if he, Cesario, were in love with her, he would go much further than simply send a go-between.
Available at the following galleries:
Zazzle US
Zazzle UK
Take care and keep laughing!
FROM THE ARCHIVE 21 July 2014
First Night Design
Seagull Sonata © First Night Design
I created Seagull Sonata with a photograph from Wikimedia and applied several textures, including one by Kerstin Frank, to produce a digital watercolour.
Hark to the whimper of the seagull.
He weeps because he's not an ea-gull.
Suppose you were, you silly seagull.
Could you explain it to your she-gull?
Ogden Nash
Take care and keep laughing!
This is an extremely early piece when I was only just beginning to realise what textures could do for a photograph. The windmill, from Wikimedia, is on the Île de Noirmoutier, an island that lies off the coast of France, and I used a filter from Snap Art, one of my background textures, and one from Skeletal Mess.
---
Windmill or no windmill, he said, life would go on as it had always gone on–that is, badly. Animal Farm by George Orwell
---

The Windmill Pack Of Standard Business Cards

The Windmill Postage
Available at the following galleries:
Redbubble
Crated
Zazzle US
Zazzle UK
Fine Art America
Fine Art England
Saatchi Art
Take care and keep laughing!