You are currently browsing the tag archive for the 'watches' tag.
Style: Women's Perfect Square Black Leather Strap Watch
With a style that is feminine and chic, the Women's Perfect Square Leather watch features a gorgeous leather band and a fully customizable face for the most unique timepiece you'll ever own.
Women's wrist watch
Material:

Face: Alloy
Strap: Leather

Dimensions:

Face: 0.944″diameter
Strap: 8.86″ x 0.7″
Case: 1.25″diameter
Weight: 0.107lb

3-hand analog Japan Quartz®
Full color custom printing on face
Buckle closure
Shower proof only
1 year manufacturers limited warranty
Battery included
This product is recommended for ages 13+
Source: The Cuckoo's Note Wristwatch | Zazzle
Take care and keep laughing!
It's not often I think my photography is good enough for public consumption, which is why I so often play around with it using textures and the like. In this instance, I surprised myself by liking it enough to let it stand. Who'd 'ave thunk!
It was with this bunch of roses that I christened my new home. Bought on Friday from the local supermarket, they don't have much of a fragrance but they sure as hell look good.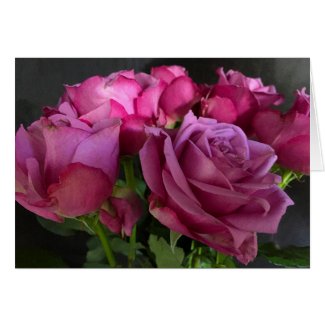 Pink Chiffon Card by FirstNightDesign
Available at the following galleries:
Redbubble
Crated
Zazzle US
Zazzle UK
Fine Art America [14 fulfillment centers in 5 countries]
Saatchi Art
Take care and keep laughing!
Resisting temptation is not one of my strong points. I bought the wristwatch with my Green Leaf design and I couldn't be happier. It's the man's version as I'm very fond of oversized jewellery. It's excellently made and the only adjustment needed was an extra three holes for the strap.
I've added lots of new watches for you to browse though. The image below contains just a few of the most popular.
Available at the following galleries:
Zazzle US
Zazzle UK
Take care and keep laughing!
Yesterday I added my Green Leaf design to all the products I sell at my Zazzle stores. Would you forgive me for being immoderately pleased with myself? It looks excellent on all the products and that's not the case for every design. I'm highlighting the watch because I think I'm going to have to treat myself! There are several styles for women, men and children available.
All Green Leaf products:
Zazzle US
Zazzle UK
All watches:
Zazzle US
Zazzle UK
Take care and keep laughing!