You are currently browsing the tag archive for the 'roses' tag.
Features
Two layers of soft 100% brushed polyester with sublimation print on the outside layer7.25″ x 4.6″ / 18.5 x 11.5 cm with over-ear elastic straps for a snug fit over mouth and nose
Wash after each use
For every mask sold, Redbubble will make a donation to Heart to Heart International
Do not use as medical personal protective equipment
Adult use only and should not be placed on young children younger than 2 years of age, anyone who has trouble breathing, or is unconscious, incapacitated or otherwise unable to remove the cover without assistance
Source: Roses of Yesteryear Mask
Other Roses of Yesteryear merchandise
Stay safe and keep laughing!
I can't bear it when I have nothing of my own to post because while I love finding other work on art, books, writing or photography to introduce you to, there's always those niggling thoughts that run: "But you need to be promoting your own work to earn money!" or "Why aren't you going back to writing your memoirs?" But it's got to stop, as I'm sure you'll tell me. Living is more important when push comes to ultimate shove and you're not the twenty-eight-year-old you feel.
Valentine Blush is new and I had every intention of uploading it to the galleries in time to catch the Valentine market. It didn't happen and so it's still not available to buy. I don't care because I've become more embedded in the local community by making some new friends including writer Barbara Jane Mackie whose screenwriter father, Philip Mackie, adapted short stories by Saki in 1962 with a cast that just happened to include my father, Richard Vernon. Some of you might remember Mackie's later work as he was responsible for the incomparable adaptation of The Naked Civil Servant [1975] with a never-to-be-forgotten performance by the late John Hurt as Quentin Crisp.
Take care and keep laughing!
I'm taking a leaf (or should that be petal) out of photographer Leanne Cole's book today and posting a vase of flowers for your delectation. This photograph is not for sale but I do have several flower pieces in the pipeline.
"Just living is not enough… one must have sunshine, freedom, and a little flower." Hans Christian Andersen
Take care and keep laughing!
Size: Greeting Card
Birthdays or holidays, good days or hard days, Zazzle's customised greeting cards are the perfect way to convey your wishes on any occasion. Add a photo or pick a design and brighten someone's day with a simple "Hey"!
Dimensions: 12.7 cm x 17.8 cm (5″ x 7″) portrait or 17.8 cm x 12. 7 cm (7″ x 5″) landscape
Printed on 110 lb, 12.5 point thick, semi-gloss paper
Matte finish inside for smudge-free writing
Add photos and text to all sides of this folded card at no extra charge
Printable area on the back of the card is 7.6 cm x 10.2 cm (portrait) or 10.2 x 7.6 cm (landscape)
Standard white envelopes included
Source: Make Me a Willow Cabin… Greeting Card | Zazzle
Take care and keep laughing!
The fragrance of flowers spreads only in the direction of the wind. But the goodness of a person spreads in all directions. Chanakya
"Daffodowndilly
She wore her yellow sun-bonnet,
She wore her greenest gown;
She turned to the south wind
And curtsied up and down.
She turned to the sunlight
And shook her yellow head,
And whispered to her neighbor:
"Winter is dead."
― A.A. Milne, When We Were Very Young
"Yellow is a very favorable vibration for mental or intellectual activity, as it promotes a clear state of mind. Yellow heightens your awareness and alleviates depression, sadness, or any kind of despondency. Yellow vibration foods are: pineapples, bananas, grapefruit, lemons and corn."
― Tae Yun Kim, The First Element: Secrets to Maximizing Your Energy
Available at the following galleries:
Redbubble
Crated
Zazzle US
Zazzle UK
Fine Art America [14 fulfillment centers in 5 countries]
Saatchi Art
Take care and keep laughing!
It's not often I think my photography is good enough for public consumption, which is why I so often play around with it using textures and the like. In this instance, I surprised myself by liking it enough to let it stand. Who'd 'ave thunk!
It was with this bunch of roses that I christened my new home. Bought on Friday from the local supermarket, they don't have much of a fragrance but they sure as hell look good.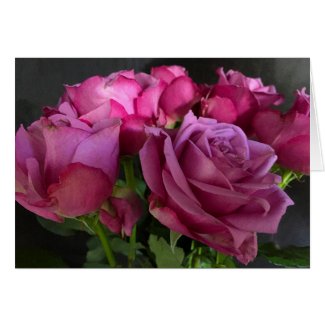 Pink Chiffon Card by FirstNightDesign
Available at the following galleries:
Redbubble
Crated
Zazzle US
Zazzle UK
Fine Art America [14 fulfillment centers in 5 countries]
Saatchi Art
Take care and keep laughing!
I fell in love a couple of weeks ago. The object of my affection was an autochromatic print of roses from a family garden in New South Wales dated 1909. I knew that I didn't want to muck about with it in my usual fashion but only to clean up the dust and scratches and enhance the dusty pink with a peach overlay.
---
"It is the time you have wasted for your rose that makes your rose so important."
― Antoine de Saint-Exupéry, The Little Prince
---
"Some people grumble that roses have thorns; I am grateful that thorns have roses."
― Alphonse Karr, A Tour Round My Garden
---
Available at the following galleries:
Redbubble
Crated
Zazzle US
Zazzle UK
Fine Art America [14 fulfillment centers in 5 countries]
Saatchi Art
Take care and keep laughing!

Make Me a Willow Cabin Valentine Postcard
Make Me a Willow Cabin was created some time ago but I don't think I've ever sold it as a greeting card or postcard or on anything, which is a shame. I'm rather fond of it.
'Make me a willow cabin…,' declares Viola to Olivia in Shakespeare's Twelfth Night. Viola, disguised as Cesario, has been sent by Orsino to declare his love for Olivia. Viola, however, chooses to give the message in her own way, telling Olivia that if he, Cesario, were in love with her, he would go much further than simply send a go-between.
Available at the following galleries:
Zazzle US
Zazzle UK
Take care and keep laughing!
'Happiness is a butterfly, which when pursued, is always just beyond your grasp, but which, if you will sit down quietly, may alight upon you.' Nathaniel Hawthorne
'I almost wish we were butterflies and liv'd but three summer days – three such days with you I could fill with more delight than fifty common years could ever contain.' John Keats, Bright Star: Love Letters and Poems of John Keats to Fanny Brawne
'Butterflies are self-propelled flowers.'  Robert A. Heinlein
These butterflies are found in China, Japan, and Korea, and come from an image at  The Biodiversity Library. The soft background of flowers is adapted from a painting at the Rijksmuseum — I'm so thankful this inspiring museum allows artists to download some of their exhibits to merge them into our own work. The other texture, which includes the flowers bottom right of the image, is from Kerstin Frank.
Take care and keep laughing!