You are currently browsing the tag archive for the 'romance' tag.
Song sheet for Irving Berlin's famous number, 'A Pretty Girl is Like a Melody', sung in the Ziegfeld Follies of 1919.
Source: Vintage Pretty Girl is Like a Melody Mouse Pad | Zazzle
Take care and keep laughing!
Style: Coffee Mug Set
It's a match made in heaven for this lovers' mug set! Made to perfectly fit together, this ceramic mug set is a great gift for a wedding, anniversary, Valentine's Day, Sweetest Day, or any other special occasion. The heart-shaped handles on each mug add an extra touch of love to this already very romantic gift! Customize with your pictures, photos, and text to make a one-of-a-kind mug set that will be cherished for years.
8-ounce capacity
Dimension: 3.8"h x 3.2"diameter
100% ceramic construction
Meets or exceeds FDA requirements for food and beverage safety
Printed on demand by the Photo USA team in Fremont, California
Source: Valentine Seahorses Coffee Mug Set | Zazzle
Take care and keep laughing!
Size: Vinyl Wrapped Flask, 6 oz.
Be prepared and discreet with a custom Liquid Courage™ flask. A unique gift that's perfect for weddings, birthdays, and special events!
Dimensions: 3.75″l x 4.5″w x 1″d; 6 oz.
Material: Stainless steel flask with attached screw top lid
Printed on high-quality vinyl that is securely wrapped
Durable, water and fade resistant
Hand wash with warm water
Handmade in USA
Source: Decorated Valentine Fan Hip Flask | Zazzle
Take care and keep laughing!
Size: Greeting Card
Birthdays or holidays, good days or hard days, Zazzle's customised greeting cards are the perfect way to convey your wishes on any occasion. Add a photo or pick a design and brighten someone's day with a simple "Hey"!
Dimensions: 12.7 cm x 17.8 cm (5″ x 7″) portrait or 17.8 cm x 12. 7 cm (7″ x 5″) landscape
Printed on 110 lb, 12.5 point thick, semi-gloss paper
Matte finish inside for smudge-free writing
Add photos and text to all sides of this folded card at no extra charge
Printable area on the back of the card is 7.6 cm x 10.2 cm (portrait) or 10.2 x 7.6 cm (landscape)
Standard white envelopes included
Source: Make Me a Willow Cabin… Greeting Card | Zazzle
Take care and keep laughing!
I think I'm repeating myself with this post but I'm too tired to check and Valentine's Day is not far away!

What could be more romantic than receiving a hand-written love letter? Use this beautiful folder to store them.
Size: Avery Signature 1.5″ Binder
You've spent time crafting interesting reports, so why not create an eye-catching Avery custom binder to match? Showcase your business with custom client binders, proposals and reports, or design unique wedding albums, recipe books and photo albums.
Dimensions: 10″l x 11.75″w; Spine: 2.2″
Full bleed photo-quality printing
Designed for letter (8.5″ x 11″) sized paper
Fits 400 pages with 1 Touch™ EZD™ Rings
Binder inserts not included
Made in U.S.A.
Ring Type: One Touch EZD Ring
1″ Capacity: 275 pages
1.5″ Capacity: 400 pages
2″ Capacity: 540 pages
Locking rings open with ease and keep pages secure.
Source: Love Letters Valentine Binder | Zazzle
Take care and keep laughing!
Original & vintage art © First Night Design [www.firstnightdesign.wordpress.com]
Source: Bird in the Hand Neck Tie | Zazzle
Take care and keep laughing!
Features / Creation 2 February 2015 / Everyday Women 16 October 2014 / Artists with Disabilities 16 October 2014 / Visual Texture Group 15 October 2014
Photoshop / Own ephemera & textures
• Also buy this artwork on bags, apparel, stickers, and more.
Source: "Bird in the Hand" Studio Pouches by Sarah Vernon | Redbubble
Take care and keep laughing!
I'm hot-footing it to the hospital tomorrow for my cataract operation. I leave you with some of my favourites for Valentine's Day. I should be back before then. Mind you, while one would normally expect to be in and out in a day with such a surgery, I'm told I have to stay in the night before and the night after. I'm spitting with rage at the ghastliness!
All of these pieces are my own except for Kissing on the Chaise-Longue which is a vintage postcard I restored.

You're the Cream in My Coffee Valentine Greeting Card by FirstNightDesign
Search for Love.
Search for Valentine.
Take care and keep laughing!
If you intend to shower your beloved with passion and romance, make sure you have everything to hand.
---
First, the greeting card.
---
The little party favour box which you can fill with the chocolates of her choice.
---
If that doesn't take your fancy, you can choose a calendar of chocolates.
---
 I'm sure you already know what you're buying as a present but if you're short of ideas, how about a iPad Folio case.
---
Or a pretty cushion.
---
It goes without saying — unless you're my  late ex-husband! — that you will want to wrap the presents.
---
And put them all in a matching gift bag.
---
Are you taking her for a romantic meal somewhere special  — a restaurant or cooking for her at home? Send her a beautiful invitation.
---
Fan from The Graphics Fairy.
Vintage Document from 2 Lil' Owls.
---
Available at the following galleries:
Redbubble
Crated
Zazzle US
Zazzle UK
Fine Art America
Fine Art England
Take care and keep laughing!
A very quick post to tell you I'm back! Yesterday was exhausting as I waded through thousands of emails. To say I'll catch up with your posts from the last few days would be extremely stupid as I know from experience that it just ain't gonna happen. But I hope to start afresh today.
SONNET 116
[The italics denote which part of the sonnet is quoted on the bag.]
Let me not to the marriage of true minds
Admit impediments. Love is not love
Which alters when it alteration finds,
Or bends with the remover to remove:
O no; it is an ever-fixed mark,
That looks on tempests, and is never shaken;
It is the star to every wandering bark,
Whose worth's unknown, although his height be taken.
Love's not Time's fool, though rosy lips and cheeks
Within his bending sickle's compass come;
Love alters not with his brief hours and weeks,
But bears it out even to the edge of doom.
If this be error and upon me proved,
I never writ, nor no man ever loved.
Take care and keep laughing!
I have sold two more cushions — very heaven!
---
'Bliss it was in that dawn to be alive
But to be young was very heaven.'
William Wordsworth, The Prelude
---

Romantic Meeting Throw Pillows
Click here for the original Romantic Meeting post.
Romantic Meeting is available on other products at the following galleries:
Redbubble
Crated
Fine Art America
Fine Art England
Zazzle US
Zazzle UK
White Rabbit is available on other products at the following galleries:
Zazzle US
Zazzle UK
Take care and keep laughing!
'Happiness is a butterfly, which when pursued, is always just beyond your grasp, but which, if you will sit down quietly, may alight upon you.' Nathaniel Hawthorne
'I almost wish we were butterflies and liv'd but three summer days – three such days with you I could fill with more delight than fifty common years could ever contain.' John Keats, Bright Star: Love Letters and Poems of John Keats to Fanny Brawne
'Butterflies are self-propelled flowers.'  Robert A. Heinlein
These butterflies are found in China, Japan, and Korea, and come from an image at  The Biodiversity Library. The soft background of flowers is adapted from a painting at the Rijksmuseum — I'm so thankful this inspiring museum allows artists to download some of their exhibits to merge them into our own work. The other texture, which includes the flowers bottom right of the image, is from Kerstin Frank.
Take care and keep laughing!
A lovely vintage image from The Graphics Fairy tarted up by me with texture and grunge from my magic cupboard!
---
"Oh, she doth teach the torches to burn bright!
It seems she hangs upon the cheek of night
Like a rich jewel in an Ethiope's ear,
Beauty too rich for use, for earth too dear.
So shows a snowy dove trooping with crows
As yonder lady o'er her fellows shows.
The measure done, I'll watch her place of stand,
And, touching hers, make blessèd my rude hand.
Did my heart love till now? Forswear it, sight!
For I ne'er saw true beauty till this night."
― 
William Shakespeare
Available at the following galleries:
Redbubble
Crated
Fine Art America
Fine Art England
Take care and keep laughing!
My internet connection is even worse today so no chance of doing a new post. Here's a Valentine one from a year ago. I am aware that you've seen the first one recently!
First Night Design
One of the most insightful of quotes about love and the nature of relationships comes from William Shakespeare and features on an early design of mine.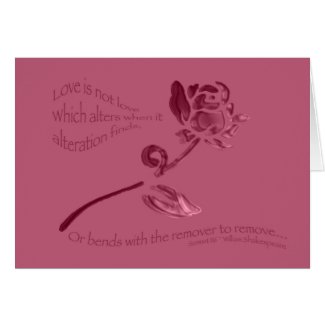 Love is Not Love… Card by FirstNightDesign

"Love is not love which alters when it alteration finds, or bends with the remover to remove." Shakespeare, sonnet 116
It is easy to forget this when young.  Desperate for love after a confusing  and contradictory set of lessons from childhood, I would constantly alter and bend in my late teens and early 20s.  This is not love.  If the object of your affections wants to mould you a certain way, or you get the feeling he or she is not going to like you if you behave a certain way, this is not love.
If someone loves you, they love you, warts and all, and it matters not a jot if you have heavy thighs or a…
View original post 290 more words