You are currently browsing the tag archive for the 'postage stamps' tag.
I had hoped to write an accompanying short story as the piece feels like a storybook image but the words just won't come. I wouldn't call it writers' block so much as my mind being chock-full of other stories waiting to be told!
I used a window scene from The Graphics Fairy with a texture from 2 Lil' Owls.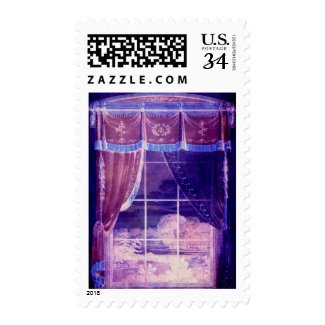 Waiting for the Dawn Postage Stamp by FirstNightDesign
---
"We went down into the silent garden. Dawn is the time when nothing breathes, the hour of silence. Everything is transfixed, only the light moves."
― Leonora Carrington
---
---
"Dawn was breaking over the horizon, shell pink and faintly gold…"
― J.K. Rowling, Harry Potter and the Deathly Hallows
---
Available at the following galleries:
Redbubble
Crated
Zazzle US
Zazzle UK
Fine Art America [14 fulfillment centers in 5 countries]
Saatchi Art
Take care and keep laughing!
No news is bad news when it comes to my internet connection! If you want to know how I'm feeling, simply visit this recent post by belsbror who suffers the same frustrations.

Royal English Opera's Ivanhoe Mousepad
Arthur Sullivan's Ivanhoe was the only opera ever produced at the Palace Theatre of Varieties. 'The Handsomest Music Hall in Europe', it was originally built as a venue for opera by Richard D'Oyly Carte. The theatre was renamed the Palace Theatre in 1911, a name it retains to this day.
Available at the following galleries:
Zazzle US
Zazzle UK
Take care and keep laughing!