You are currently browsing the tag archive for the 'pantomime' tag.
Dick Whittington was drawn not by me but my ex-chap, Mr FND. I get the commission though, bless him!

Style: Photo Notebook (80 Pages B&W)
Organize your day with a custom notebook! Made with your images and text on the front cover, this notebook is a great way to show off your personal style and keep track of all important notes and appointments all at once.
Dimensions: 6.5″ x 8.75″
Cover printed in vibrant, sharp color
80 black & white lined pages
Lay flat spiral binding
Source: Turn Again, Whittington Spiral Notebook | Zazzle
Take care and keep laughing!
Size: Fleece Blanket, 60″x80″
It's hard to cuddle by yourself. But with these fully customizable comfy fleece blankets, you won't have to anymore. Customize the entire front panel and wrap yourself in personalized plush luxury. Delicate, soft and colorful, it's the perfect blanket for picnics in the park, outdoor events, and cozy winter snuggles.
Available in 3 different sizes: small (30″x40″); medium (50″x 60″); large (60″x 80″)
100% buttery soft and cozy polyester fleece
Edge-to-edge sublimation printing in vibrant full color
Sturdy double edge stitching for a clean finish
Back color is off-white
Machine washable, gentle cycle, mild detergent
Tumble dry low
This product is recommended for ages 13+ [Interesting, this, since Zazzle give example photos with babies!]
Source: Vintage Puss in Boots Christmas Montage Fleece Blanket | Zazzle
Take care and keep laughing!
Make your unique style stick by creating custom stickers for every occasion! From special mailings and scrapbooking to kids' activities and DIY projects, you'll find these stickers are great for so many uses. Add your own designs, patterns, text, and pictures!
4 stickers per sheet
Dimensions: 4.5"l x 2.7″w per sticker
Printed on white acid-free paper
Vibrant full-color, full-bleed printing
Scratch-resistant front, easy peel-and-stick back
Available in a matte or glossy finish
Use the "Customize it!" button to choose between 7 different shapes
Source: Vintage Aladdin Christmas Montage Oval Sticker | Zazzle
Take care and keep laughing!
Celebrate your guests with custom favor boxes. Wonderful giveaways at weddings, birthdays, corporate events, and other parties. Designs are printed in full color, allowing you to perfectly coordinate with any theme!
Dimensions: 2″l x 2″w x 2.75″h
Printed in full color on high quality card stock
Shipped flat, some simple assembly required
Source: Sleeping Beauty Favor Box | Zazzle
Take care and keep laughing!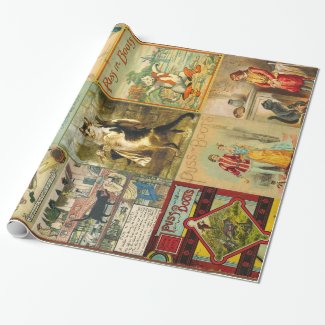 Vintage Puss in Boots Christmas Montage Wrapping Paper
by FirstNightDesign
I know you don't want to hear this but some people are already preparing for Christmas, as witness my selling Vintage Puss in Boots Christmas Montage Wrapping Paper.
Available at the following galleries:
Zazzle US
Zazzle UK
Take care and keep laughing!
'Sleeping Beauty's earliest influence apparently comes from "Perceforest," a French romance first printed in 1528. While not a Sleeping Beauty tale, Perceforest (1528) contains many elements similar to the later Sleeping Beauty tales. Some scholars debate the connection between the stories, but I believe there are enough similarities to warrant comparisons. You can read more about Perceforest on Wikipedia.

The next known version of the tale came from Giambattista Basile's "Sun, Moon, and Talia" also known more formally as…' SurLaLune
I thought it was time to revisit Sleeping Beauty, created with a vintage postcard from  The Graphics Fairy, and blended with one of my vintage postcard backs and a scan of a piece of coffee bean paper. I have used the design on several new products, as below.

Sleeping Beauty Party Favor Boxes
Sleep well tonight. But not too well!
Available at the following galleries:
Redbubble
Crated
Zazzle US
Zazzle UK
Fine Art America
Fine Art England
Saatchi Art
Take care and keep laughing!
The Dancer and the Pierrot is a digital collage I adapted about three or four years ago from one of Jules Cheret's posters, Third Panel: la Pantomime, printed in 1900. I layered it with a couple of my background textures and various elements scanned from my theatre archive.
I view it as a Christmas piece but it would work equally well for any occasion if you were buying the greeting card or postcard.
Enjoy!

Available to buy @
Redbubble
Crated
Zazzle
Fine Art America
Fine Art England
Take care and keep laughing!
'By the time this post appears I'll be in Italy preparing to direct Jack & the Beanstalk for the biennial Venice pantomime, so it seems an appropriate time to write about the man who shaped the pantomime dame as we know her today: the great Dan Leno.
Dan started life as George Galvin, the child of two struggling music hall performers and if he wasn't quite born in a trunk in the Princess Theatre, he was certainly soon a part of his parents' endlessly travelling, bread-line existence. At the age of three he made his stage début as Little George, the Infant Wonder Contortionist and Posturer.
In the 1860s childhood was a brief affair in even the most comfortable of families. In show-business it was over as soon as a child could walk onto a stage ….'
via The History Girls: There is Nothing Like a Dame, says Laurie Graham.
******
For fans of vintage theatre, visit my First Night Vintage store for Dan Leno and many more performers.
See also Dan Leno in Mother Goose at Drury Lane in 1902.
Take care and keep laughing!
I created this Aladdin montage by combining various vintage illustrations for the story from Wikimedia and Karen's Whimsy, for which much thanks. The Moroccan-type band at the top, centre and bottom, is an adaptation of a repeating pattern from The Graphics Fairy.
I am the Genie is an illustration by Mr FND, part of a collection of pantomime drawings. My favourite is actually his Turn Again, Whittington!

I am the Genie Jelly Belly Candy Tins
Take care and keep laughing!
Related articles

Sleeping Beauty Gift Wrapping Paper
Having just sold some of my Sleeping Beauty wrapping paper, I decided Princess Aurora, as she has been known since the animated Disney film in 1959, deserved a post of her own.
The original story, The Beauty sleeping in the wood, or La Belle au bois dormant, was published by Charles Perrault in 1697 as part of his Histoires ou contes du temps passé, before being taken up by the Brothers Grimm.
According to ListVerse, the original story has unpleasant overtones in that 'the young woman is put to sleep because of a prophesy, rather than a curse. And […] the king seeing her asleep, and rather fancying having a bit, rapes her. After nine months she gives birth to two children (while she is still asleep). One of the children sucks her finger which removes the piece of flax which was keeping her asleep. She wakes up to find herself raped and the mother of two kids'. Macabre, mais oui!

Sleeping Beauty Spiral Note Books
Take care and keep laughing!
Related articles