You are currently browsing the tag archive for the 'mosque' tag.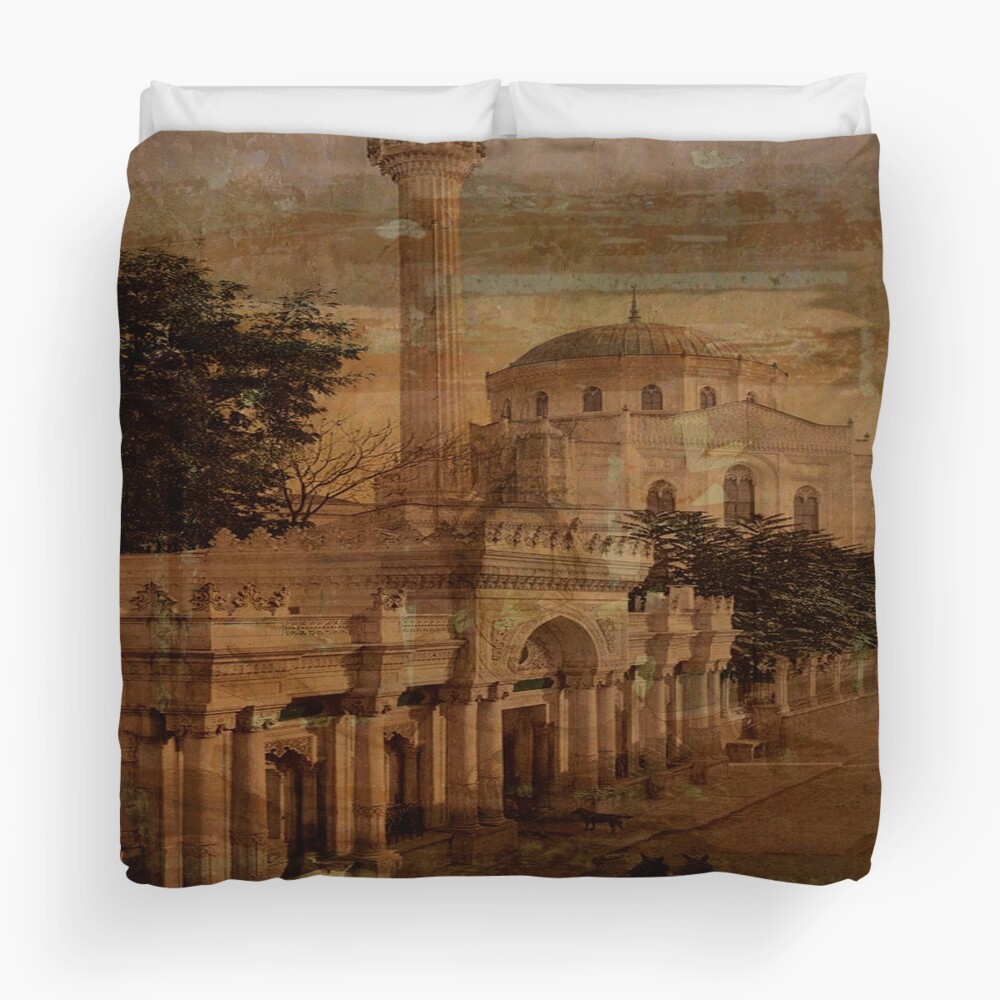 Features
Duvet cover with vivid, full-colour print on front, white on the back

100% polyester top, 50% cotton / 50% polyester back

Concealed zipper opening and internal insert ties for easy assembly

Available in multiple sizes from twin to king. Twin size fits most extra-long college dorm beds; check sizing guide for detailed measurements

Note: duvet insert not included

Machine washable
Source: Constantinople King Size Duvet Cover  @ Redbubble
Take care and keep laughing!
Style: Table Lamp [US plug only]
Brighten up any room with this custom table lamp from Lamp-In-A-Box. Personalize the lamp shade with original artwork, photography, or bold graphics to create a statement piece that will add instant style to your home decor. Choose your trim and style for a special, one-of-a kind home or office accent.
Dimensions: 20″h x 7″w; Weight: 2 lbs.
120 Volt; Up to 60-watt incandescent light bulb (bulb not included)
Available in film polyester, rice paper, and linen lamp
Printed with state-of-the-art 14 color vibrant printing with fade resistant ink
Includes a 6' Power Cord with 2-prong USA plug and pull chain
Source: Indian Glories Table Lamp | Zazzle
Take care and keep laughing!
This photograph of the Venetian Harbour in Chania, Crete, was taken by me on this occasion and not Mr FND! My idea was to create a watercolour with the gentle lines of a preparatory drawing showing through.
My first layer was the bluewatercolor from Angie Makes in Photoshop's Normal mode. This I followed with the Beguiling-18 texture from 2 Lil' Owls in Linear Burn. As you can see, I'm getting a lot of mileage out of those two backgrounds! Next came the Venetian Harbour which I put in Screen mode. To create the line drawing, I used the Trace Contour tool; this is not the best tool in the world but since I wanted the bare minimum showing, I knew it could work. To top it off, I used another 2 Lil' Owls texture, 2LO Confetti 8. Putting the latter in Multiply mode was the perfect finishing touch.
The last time I tried to create a watercolour effect with this photo — some years ago now — it was disastrous and very obviously 'Photoshopped' using their 'watercoloor' tool. Not a good idea. I'm much happier this time round!
Incidentally, the mosque in the centre of the picture is the Mosque of the Janissaries, now an art gallery. If you ever find yourself in the harbour, by all means have a drink but don't, whatever you do, eat a meal. The quality is appalling and you would be better off going up the side streets to find good, authentic food. Most important of all, avoid the taverna that sells very pink and very green cocktails — coloured fizzy water at best! We were each offered one for free having allowed the owner to do a quick run round the harbour on my mobility scooter. Never again!
Here, for your delectation, is a recipe for what looks and sounds like an excellent green cocktail from MyBestCocktails.com:
Minttu
Ingredients
1 oz Malibu Rum
1 oz Cuban Rum
1 oz Batida de Coco
2/3 oz Midori
1 oz Pineapple Juice
6 leaves Mint Leaves
Shake all ingredients in a shaker with ice.
Pour into a tall glass with some ice.
Enjoy!
No, I've never come across Midori either!
Available at the following galleries:
Redbubble
Crated
Zazzle US
Zazzle UK
Fine Art America
Fine Art England
Saatchi Art
Take care and keep laughing!
First Night Design
Try something a little different for your next business card!
Take care and keep laughing.
Try something a little different for your next business card!
Take care and keep laughing.
The perfect binder to keep all your travel plans in one place!  This is a digital painting of the mosque in the Venetian Harbour in Chania, Crete.  It is one of the oldest surviving buildings from the time of the Ottoman Empire and was built in 1645.  Worship took place in the mosque until 1923 when the Muslims left the island in an exchange between Greece and Turkey.  Janissaries is the Turkish word for 'new troops', men who were recruited, ironically, from the non-Muslim fraternity and worked as household troops and bodyguards of the sultan. Once containing the Chania museum, in recent years the mosque has been hosting small art exhibitions.
Take care and keep laughing!