You are currently browsing the tag archive for the 'hip flasks' tag.
Size: Vinyl Wrapped Flask, 6 oz.
Be prepared and discreet with a custom Liquid Courage™ flask. A unique gift that's perfect for weddings, birthdays, and special events!
Dimensions: 3.75″l x 4.5″w x 1″d; 6 oz.
Material: Stainless steel flask with attached screw top lid
Printed on high-quality vinyl that is securely wrapped
Durable, water and fade resistant
Hand wash with warm water
Handmade in USA
Source: Decorated Valentine Fan Hip Flask | Zazzle
Take care and keep laughing!
Thank you all so much for commenting on my Rose in Snow post and giving me the confidence to upload the piece to my galleries. I made one change, which was to ensure the rose itself covered the whole area so that no background green is showing. I like it better this way.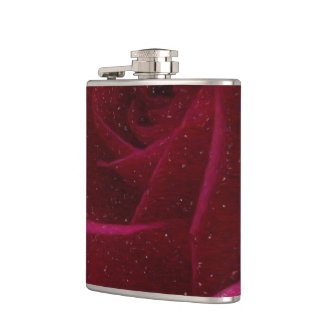 A Burgundy Rose in Snow Flask by FirstNightDesign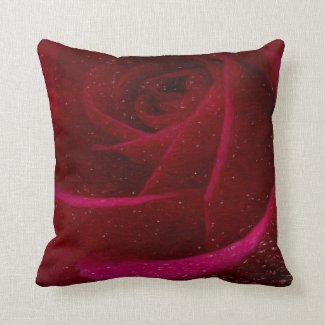 A Burgundy Rose in Snow Throw Pillow by FirstNightDesign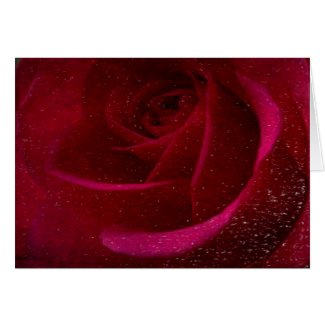 A Burgundy Rose in Snow Card by FirstNightDesign

A Burgundy Rose in Snow Postage by FirstNightDesign
Take care and keep laughing!
Paul-François Quinsac (1858–1929) was a French artist who specialised in mythological and allegorical subjects, figures and landscapes.
His painting A Beauty in Violet (1909) was the perfect backdrop to create a faux-Victorian advertisement with vintage elements from The Graphics Fairy, including an intricate twirl for a headpiece, embellished with one of my embossed flowers that I created in the early days.

Déjeuner de Luxe Flask by FirstNightDesign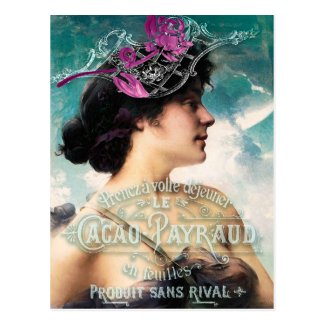 Déjeuner de Luxe Postcard by FirstNightDesign
Take care and keep laughing!
Wet Magic
until I sold a postcard of it yesterday. It was one of my first adaptations of a classic piece, in this instance 
La Toilette de Vénus
by François Boucher [1703-1770] which can be seen at
The Metropolitan Museum of Art
. It took me days — my Photoshop skills were almost non-existent at the time — and days and days. The idea of switching her from right to left and turning her into a mermaid came from my love of E Nesbit's children's books and specifically Wet Magic in which her protagonists save a mermaid from the circus, and much else besides.
I had forgotten about 
Extract from Wet Magic in which Nesbit quotes John Milton:
'Now, Francis," [Mavis] called. And Francis came slowly with his thumb in The Water Babies. It was nearly dark by now, but Mavis had lighted the four dolls' house candles in the gilt candlesticks and set them on the table round the aquarium."Look through the side," she said; "isn't it ripping?""Why," said Francis slowly, "you've got water in it–and real anemones! Where on earth…?""Not real," said Mavis. "I wish they were; they're only dahlias. But it does look pretty, doesn't it?""It's like Fairyland," said Kathleen, and Bernard added, "I am glad you bought it.""It just shows what it will be like when we do get the sea creatures," said Mavis. "Oh, Francis, you do like it, don't you?""Oh, I like it all right," he answered, pressing his nose against the thick glass, "but I wanted it to be waving weeds and mysterious wetness like the Sabrina picture."The other three glanced at the picture which hung over the mantel piece–Sabrina and the water-nymphs, drifting along among the waterweeds and water-lilies. There were words under the picture, and Francis dreamily began to say them:–"Sabrina fair,

Listen where thou art sitting.

Under the glassy green, translucent wave…

In twisted braids of lilies knitting

The loose train of thine amber-dropping hair…"'
And why Madame de Pompadour? Louis XV's famous mistress commissioned La Toilette de Vénus for the boudoir at her château near Paris. She was a devotee of the artist and his patroness from 1747 until she died in 1764. According to the 
metmuseum,
 '…she had acted the title role in a play, staged at Versailles, called "The Toilet of Venus," and while this is not a portrait, a flattering allusion may have been intended.' Visit
Last Post
to read several fascinating articles about Madame de Pompadour by Pippa Rathborne.
Take care and keep laughing!