You are currently browsing the tag archive for the 'french' tag.
For Claude Cahun, resisting normalcy was a lifelong pursuit. Born in 1894, she was a genderqueer pioneer, Jewish Nazi fighter, and radical collage artist. The French photographer's self-portraits are a focused interrogation of identity and gender fluidity. Rediscovered in the 1990s, her work reminds us that the impact of one person's refusal can ripple for centuries.
The daughter of prominent Jewish publishers, Cahun was born…
Source: This queer Jewish photographer resisted the Nazis and escaped death—and made great art
Size: 8.5″ x 11″
Spread your brand by creating custom letterhead for your personal and professional mailings. Browse thousands of elegant templates or add your own design and logo using our personalization tool. Keep your company top-of-mind with each and every mailing you send.
Dimensions: 11″l x 8.5″w (standard letter size)
Choice of five different paper types
High quality, full-color, full-bleed printing
Compatible with inkjet and laser printers
Media: Basic
Your business and personal mailings will have a crisp professional look on this matte, 80lb text-weight paper. Contains 50% recycled content (10% post-consumer and 40% pre-consumer waste).
Source: Birdcage Blossom Letterhead | Zazzle
Take care and keep laughing!

Size: Rickshaw Medium Zero Messenger Bag
A powerhouse of versatility, the Rickshaw Medium Zero Messenger Bag is perfect as a workday commuter, overnight attaché, or travel bag. Vibrantly printed with your custom artwork or text on rugged polyester and designed with an interchangeable accessories system, this bag is as customizable inside as it is outside. Carefully constructed with a focus on environmental sustainability, this bag combines form, function, and a small ecological footprint.
Dimensions 11″ H x 18″ W x 6″ D.
Water resistant, extra durable (machine-washable).
Large main compartment and 2 front pockets.
Lightweight and forms to your body.
Quick-adjust cam shoulder strap.
Velcro strips accessory system; Holds a 13″ laptop (w/optional sleeve).
Made with a sustainability focus in San Francisco, CA.
Designer Tip: To ensure the highest quality print, please note that this product's customizable design area measures 19.55″ x 38.58″. For best results please add 1/4″ bleed.
Source: Birdcage Blossom Messenger Bag | Zazzle
Take care and keep laughing!
"With color one obtains an energy that seems to stem from witchcraft." — Henri Matisse, French, painter, printmaker
Source: "With color one obtains an energy that seems to stem from witchcraft." – Art of Quotation
Following on from yesterday's Pot-Pourri Duvet Cover, I give you the "Birdcage Blossom Duvet Cover", and a photo of it in situ below as I bought it for myself and couldn't be more delighted.

Featured in Vintage Retro Classic 6th December 2012. / Featured in Artists Universe 17th November 2012. / Featured in Vavoom 8th November 2012. / Daily Dazzler feature in Art Universe 27th October 2012. / Featured in Creative Cards & Calendars 26th October 2012. / Background from Astrid's Artistic Efforts, flowers, birdcage and French typography from The Graphics Fairy. Created in Photoshop. • Also buy this artwork on home decor, apparel, stickers, and more.
Source: "Birdcage Blossom" Duvet Covers by Sarah Vernon | Redbubble
In other news, the ophthalmology appointment came through yesterday morning and I'll be seeing the specialist on 10th November. Thank you once more for your amazing support during the gritted-teeth period. Talking of teeth … no, you don't' want to know!
Take care and keep laughing!
A flying visit to show there's a little more order in the house. Not much but a little. The downside is that the word 'flying' is a complete misnomer as I've overexerted myself and done something to my hip (yes, the one that was replaced a few years ago). This means that my rather grand, brass-effect zimmer frame bought in Crete has come in very handy.
It doesn't, however, allow for much sorting out of what remains to be done but I've employed a delightful handyman who hails from Vienna and has been a local here for many years. He moved a multitude of heavy boxes — yes, those damn books — from one room to the other on Friday, and he is returning to put together some flat pack beds and a couple of other units (Ikea, naturally) Oh, and move more boxes.
In the meantime, life can be very sweet when you least expect it for on the sales front, I've sold two of these light switch covers…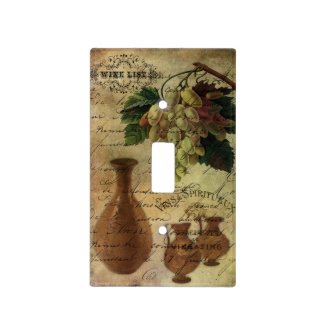 Vins Spiritueux, Nectar of the Gods Light Switch Cover by FirstNightDesign
…lots of these stickers…
…this poster…
…and this poster too.

Taormina Poster by FirstNightDesign
Not to mention two of these chocolate cushions.

Burlap Simple Chocolate Brown Throw Pillow by FirstNightDesign
I'm itching to create but until my new sofa arrives, I can't get comfortable enough to do so.
Take care and keep laughing!
Jacob-Abraham-Camille Pissarro was born on July 10, 1830, on St. Thomas, in the Danish West Indies. His father was a French citizen of Portuguese Jewish descent, and his mother, who had previously been married to her new husband's uncle, was Creole. The marriage was controversial, probably due to racial factors, and as a consequence the Pissarro children were compelled…
"Marcel, no more painting; go get a job." — Marcel Duchamp, painter, sculptor, French-naturalized, American
Source: "Marcel, no more painting; go get a job." | Art of Quotation
If you read my blog regularly, you can probably guess my thoughts this Bank Holiday!
---
"It's time to start living the life you've imagined." ― Henry James
"Toto, I have a feeling we're not in Kansas Crete anymore." ― L. Frank Baum
"In the long run, the pessimist may be proved right, but the optimist has a better time on the trip." — Daniel L. Reardon
"For last year's words belong to last year's language
And next year's words await another voice.
And to make an end is to make a beginning."
(Little Gidding) ―  T.S. Eliot
"Sometimes losing everything is the only way to begin."  (The Firebrand Legacy)
― T.K. Kiser
---
Available at the following galleries:
Redbubble
Crated
Zazzle UK
Zazzle US
Fine Art America
Fine Art England
Saatchi Art
Take care and keep laughing!
FROM THE ARCHIVE 13th November 2014

"Give me books, French wine, fruit, fine weather and a little music played out-of-doors by somebody I do not know." ― John Keats Let joy be unconfined! I have sold a cushion at Redbubble with the V…
Source: First Night Design | "Give me books, French wine, fruit, fine weather and…" | First Night Design
Originally posted on  ღ Vintage Blog.
In 1844 Pierre-Louis Pierson began operating a studio in Paris that specialized in hand-colored daguerreotypes. In 1855 he entered into a partnership with Léopold Ernest and Louis Frédéric Mayer, who also ran a daguerreotype studio. The Mayers had been named "Photographers of His Majesty the Emperor" by Napoleon III the year before Pierson joined them. Although the studios remained at separate addresses, Pierson and the Mayers began to distribute their images under the joint title "Mayer et Pierson," and together they became the leading society photographers in Paris (source).
Pierre Louis Pierson´s most interesting professional project is the close collaboration he led with Virginia Oldoini, the Countess of Castiglione. She directed Pierre-Louis Pierson to help her create…
via Pierre Louis Pierson (1822 – 1913) – Countess Virginie de Castiglione | ღ Vintage Blog.

Vins Spiritueux, Nectar of the Gods Round Wall Clocks from Zazzle
I've sold one of these clocks! They're available in different sizes and also a square shape.
---
"When I do count the clock that tells the time,
And see the brave day sunk in hideous night;
When I behold the violet past prime,
And sable curls all silver'd o'er with white;
When lofty trees I see barren of leaves
Which erst from heat did canopy the herd,
And summer's green all girded up in sheaves
Borne on the bier with white and bristly beard,
Then of thy beauty do I question make,
That thou among the wastes of time must go,
Since sweets and beauties do themselves forsake
And die as fast as they see others grow;
And nothing 'gainst Time's scythe can make defence
Save breed, to brave him when he takes thee hence."
― William Shakespeare, Shakespeare's Sonnets
---
Available at the following galleries:
Redbubble
Crated
Zazzle US
Zazzle UK
Fine Art America
Fine Art England
Take care and keep laughing!
A change of pace to show you this charming vintage French advertising image, presumably to proclaim the delights of Saint Denis (see top of image), which comes from The Graphics Fairy. I enhanced the original and added the almond green border.
Available at the following galleries:
Zazzle US
Zazzle UK
Take care and keep laughing!
 "A revolt against nature: a woman genius"…Octave Mirbeau
Camille Claudel
8 December 1864 – 19 October 1943
Camille Claudel was a French sculptor and artist. Her fascination for clay, stone, and dirt, began when she was a young child, and as she came of age, despite the protestations of her mother, her father supported her to study art. Around 1884, she started working with Auguste Rodin and before long became his lover and confidante. Obviously her family was outraged by the affair.
After 1905, she was afflicted by a mental illness. In the throes of her paranoia, she destroyed much of her work. Today, only 90 pieces exist. She disappeared for long periods of time, which alarmed her family. She came to believe that Rodin had stolen her all her ideas and he would soon kill her. As a result, she hid from the world, locking herself in her workshop to work. In 1913, her brother convinced her to voluntarily enter a psychiatric hospital where she had numerous outbursts. Despite her agitation, whenever engrossed in creating art, she was always…
Read original History and Women.