You are currently browsing the tag archive for the 'fairy tale' tag.
Size: Fleece Blanket, 60″x80″
It's hard to cuddle by yourself. But with these fully customizable comfy fleece blankets, you won't have to anymore. Customize the entire front panel and wrap yourself in personalized plush luxury. Delicate, soft and colorful, it's the perfect blanket for picnics in the park, outdoor events, and cozy winter snuggles.
Available in 3 different sizes: small (30″x40″); medium (50″x 60″); large (60″x 80″)
100% buttery soft and cozy polyester fleece
Edge-to-edge sublimation printing in vibrant full color
Sturdy double edge stitching for a clean finish
Back color is off-white
Machine washable, gentle cycle, mild detergent
Tumble dry low
This product is recommended for ages 13+ [Interesting, this, since Zazzle give example photos with babies!]
Source: Vintage Puss in Boots Christmas Montage Fleece Blanket | Zazzle
Take care and keep laughing!
Make your unique style stick by creating custom stickers for every occasion! From special mailings and scrapbooking to kids' activities and DIY projects, you'll find these stickers are great for so many uses. Add your own designs, patterns, text, and pictures!
4 stickers per sheet
Dimensions: 4.5"l x 2.7″w per sticker
Printed on white acid-free paper
Vibrant full-color, full-bleed printing
Scratch-resistant front, easy peel-and-stick back
Available in a matte or glossy finish
Use the "Customize it!" button to choose between 7 different shapes
Source: Vintage Aladdin Christmas Montage Oval Sticker | Zazzle
Take care and keep laughing!
Celebrate your guests with custom favor boxes. Wonderful giveaways at weddings, birthdays, corporate events, and other parties. Designs are printed in full color, allowing you to perfectly coordinate with any theme!
Dimensions: 2″l x 2″w x 2.75″h
Printed in full color on high quality card stock
Shipped flat, some simple assembly required
Source: Sleeping Beauty Favor Box | Zazzle
Take care and keep laughing!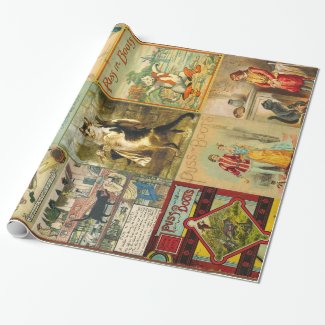 Vintage Puss in Boots Christmas Montage Wrapping Paper
by FirstNightDesign
I know you don't want to hear this but some people are already preparing for Christmas, as witness my selling Vintage Puss in Boots Christmas Montage Wrapping Paper.
Available at the following galleries:
Zazzle US
Zazzle UK
Take care and keep laughing!
'Sleeping Beauty's earliest influence apparently comes from "Perceforest," a French romance first printed in 1528. While not a Sleeping Beauty tale, Perceforest (1528) contains many elements similar to the later Sleeping Beauty tales. Some scholars debate the connection between the stories, but I believe there are enough similarities to warrant comparisons. You can read more about Perceforest on Wikipedia.

The next known version of the tale came from Giambattista Basile's "Sun, Moon, and Talia" also known more formally as…' SurLaLune
I thought it was time to revisit Sleeping Beauty, created with a vintage postcard from  The Graphics Fairy, and blended with one of my vintage postcard backs and a scan of a piece of coffee bean paper. I have used the design on several new products, as below.

Sleeping Beauty Party Favor Boxes
Sleep well tonight. But not too well!
Available at the following galleries:
Redbubble
Crated
Zazzle US
Zazzle UK
Fine Art America
Fine Art England
Saatchi Art
Take care and keep laughing!
Originally posted on Life in Russia
Many years ago, in a certain village lived an old couple, who had just one daughter, named Vassilisa. They lived in quite a small cottage, but they were comfortably off. Yet trouble came to them too, for the mother fell ill, and she realised that she was near to death. So she called her daughter to her, and gave her a small doll.
"Listen, my dear daughter," she said. "Take great care of this little doll, and never let anyone else see it. If you ever get into trouble, give her something to eat and ask her advice. She will eat the food and will help you in your trouble."
She gave Vassilisa a last kiss, and soon after she died. Although the old man mourned the loss of his wife, after some time he married again, thinking he would find his daughter a second mother. But all he gave her was an unkind stepmother. The new wife had two daughters of her own, who were stupid and fussy, and not at all good-natured. Their mother was very fond of them, but she made Vassilisa's life a misery. She was always scolding her, treating her unkindly, working her hard. And her daughters were just as bad.
They did their best to make her look thin by overworking her, and to spoil her good looks by exposing her to the sun and the wind. All day the girl heard nothing but: "Get on with cooking the dinner, Vassilisa! It is time you swept out the home. Fetch some firewood, the fire is going out. Have you milked the cows yet? Do not stand there doing nothing, get a move on. You must work faster."
Vassilisa was very willing, she did everything they asked, was always trying to please them, and managed to…
via Russian Fairy Tale – Beautiful Vassilisa | Life in Russia.
I created this Aladdin montage by combining various vintage illustrations for the story from Wikimedia and Karen's Whimsy, for which much thanks. The Moroccan-type band at the top, centre and bottom, is an adaptation of a repeating pattern from The Graphics Fairy.
I am the Genie is an illustration by Mr FND, part of a collection of pantomime drawings. My favourite is actually his Turn Again, Whittington!

I am the Genie Jelly Belly Candy Tins
Take care and keep laughing!
Related articles