You are currently browsing the tag archive for the 'curtains' tag.
I had hoped to write an accompanying short story as the piece feels like a storybook image but the words just won't come. I wouldn't call it writers' block so much as my mind being chock-full of other stories waiting to be told!
I used a window scene from The Graphics Fairy with a texture from 2 Lil' Owls.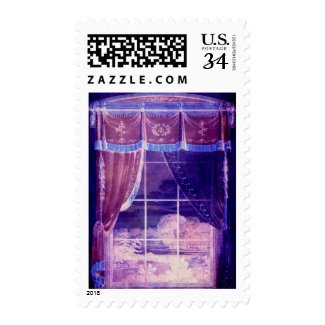 Waiting for the Dawn Postage Stamp by FirstNightDesign
---
"We went down into the silent garden. Dawn is the time when nothing breathes, the hour of silence. Everything is transfixed, only the light moves."
― Leonora Carrington
---
---
"Dawn was breaking over the horizon, shell pink and faintly gold…"
― J.K. Rowling, Harry Potter and the Deathly Hallows
---
Available at the following galleries:
Redbubble
Crated
Zazzle US
Zazzle UK
Fine Art America [14 fulfillment centers in 5 countries]
Saatchi Art
Take care and keep laughing!
This is an old book-plate by Ernest Haslehurst of a public house called The Grapes at Limehouse (once The Bunch of Grapes) that I bought from collectors Vintage Views. It would be fun to think this Taylor Walker & Co pub was the inspiration for Dickens and Fagin's den in Oliver Twist but it certainly makes me think of the narrow cobbled streets of Victorian London where pickpockets and other nefarious persons would ply their trade. It dates from the 16th century but the frontage is Victorian.
Although the original is in good nick, it has a faded quality even though it has not actually faded, so I added a duplicate layer in Overlay to bring out the colour and detail.
Look closely — I can see Nancy on the balcony, and isn't that Bill Sikes with his Staffy, Bullseye, coming up the ladder? And surely that's Fagin himself at the curtain. Could this not, in fact, be the very place from which Sikes hanged himself?
The Grapes does have a connection to Dickens, however, since he knew that area of Limehouse well and probably based The Six Jolly Fellowship Porters in Our Mutual Friend on it.
From the research I've done, I learn that the lessees are actor Sir Ian McKellen, director Sean Mathias and Evening Standard owner, Evgeny Lebedev, the trio having bought the pub in 2011; it looks as if it's a charming place to find some excellent beer and food. Let me know if you visit.
Available at the following galleries:
Redbubble
Crated
Zazzle US
Zazzle UK
Fine Art America [14 fulfillment centers in 5 countries]
Saatchi Art
Take care and keep laughing!
My starting point for this piece was a divine original book-plate from 1899 of the British actress Miss Dorothea Baird (1875-1933), which I bought from collectors Vintage Views, along with a few other goodies which will be revealed in the weeks to come.
I will be posting the original on First Night Vintage at some point but here I have superimposed a vintage theatre programme from my archive for a production at the Lyric Theatre onto the curtains of the original. If I were to tell you the number of other images and textures I used, including Island in the Storm, you probably wouldn't believe me!
Dorothea Baird first appeared on stage  in 1894 for the Oxford University Dramatic Society or OUDS as Iris in The Tempest. She performed in several Shakespeare productions in the following years, often with her husband, H. B. Irving, Sir Henry's son. She also originated the part of Mrs Darling in Peter Pan (1904). It was a short but notable career, ending in 1913 when she retired and concentrated her energies on charitable causes.
The text below is an extract from what is printed on the reverse side of the book-plate and is an effusive, to say the least, appraisal of Miss Baird and her trumpeted performance in the title role of George du Maurier's Trilby, produced at the Haymarket Theatre in 1895. You will not have read the like in the 20th or 21st century!
'MISS DOROTHEA BAIRD made her first appearance on the stage in 1894, when she played Iris in "The Tempest," and Galatea in "Pygmalion and Galatea," at the performances of the Oxford University Dramatic Society. After that, Miss Baird went a-touring with Mr. Ben Greet's company—whence we have derived so many stage recruits—and in her time played many parts. But to Londoners, Miss Dorothea Baird is Trilby; Trilby, in spite of her appearance as the heroine of Mr. Louis Parker's play, " The Happy Life," at the Duke of York's Theatre; in spite of her Phoebe in "As You Like It," at the St. James's; in spite of her charming Diane in "A Court Scandal," at the Court Theatre. And, whatever may be the success in store for her, it is probable that it is of her Trilby we shall tell our grandchildren when we inform them in the usual way that acting was acting in our young days [….] From the above will be learned the impressions of the moment of a remarkable "first night."'
Available at the following galleries:
Redbubble
Crated
Zazzle US
Zazzle UK
Fine Art America
Fine Art England
Saatchi Art
Take care and keep laughing!
The work of the Dutch-born artist Sir Lawrence Alma-Tadema [1836-1912] is unmistakable. A dazzling Mediterranean sea? Exquisitely rendered marble? A delectable female or two draped in classical robes? The chances are you're looking at a painting by Alma-Tadema. His detailed brush strokes and rich colours owe much to his Dutch forebears and while one might consider his paintings to be somewhat chocolate-box pretty, it's difficult  not to be charmed by them. You may remember that the last time I mentioned Sir Lawrence was when I adapted another of his pieces, Ask Me No More, for The Proposal.
The Meeting of Antony and Cleopatra was commissioned by a Samuel Hawk of New York in 1883 and painted in 1885, its inspiration taken from Shakespeare's play. Alma-Tadema trained at the Royal Academy of Antwerp in Belgium but moved to England in 1870 and there he remained, though he was in Wiesbaden, Germany, when he died in 1912.
Available at the following galleries:
First Night Vintage Zazzle US
First Night Vintage Zazzle UK
Fine Art America
Fine Art England
Take care and keep laughing!