You are currently browsing the tag archive for the 'blue' tag.
I'm back. I'm rested but a little hysterical since I have had two more conditions diagnosed; one requires surgery, the other is a second incurable autoimmune condition for which the only treatment will be medication, which might or might not make a difference. You couldn't make it up!
This is one of my very early abstracts created out of some flower and leaf photographs.
via In the Garden Where the Faeries Go Mouse Pad | Zazzle.com
Original & vintage art © First Night Design
Source: Patchworks VIII Greeting Card | Zazzle
Take care and keep laughing!
How pleasing to sell a sheet of round stickers!

Shape: Classic Round Sticker
Make your unique style stick by creating custom stickers for every occasion! From special mailings and scrapbooking to kids' activities and DIY projects, you'll find these stickers are great for so many uses. Add your own designs, patterns, text, and pictures!
Dimensions: Available in 2 sizes:

Large: 3″ diameter, 6 stickers per sheet
Small: 1.5″ diameter, 20 stickers per sheet

Printed on white acid-free paper
Vibrant full-color, full-bleed printing
Scratch-resistant front, easy peel-and-stick back
Available in a matte or glossy finish
Use the "Customize it!" button to choose between 7 different shapes
Source: Stained Glass Fish Sticker | Zazzle
Take care and keep laughing!
Wisdom Extraction: Sadly, I'm not feeling so chipper today, nor did I at the end of last night. I think it must be a delayed reaction.  Mind you, Ben & Jerry's Cookie Dough helped!

Style: Case Savvy iPad Mini Glossy Finish Case
Shield your iPad Mini from daily damage with a customizable iPad Mini case. Made of lightweight hard shell plastic, this case clips onto the back of the iPad adding protection without the bulk. Made with a glossy finish, your designs, photos, and text will look great displayed on this one of a kind case.
Designed for Apple's iPad Mini.
Hard shell plastic case with glossy finish.
Smart Cover compatible.
Access to all ports, controls & sensors.
Customize with photos, artwork and text.
Designer Tip: To ensure the highest quality print, please note that this product's customizable design area measures 5.85″ x 8.45″. For best results please add 1/3″ bleed.
Source: Syncopated Lady iPad Mini Cover | Zazzle
Take care and keep laughing!
Solitude Galaxy S6 Case for Sale by Sarah Vernon. Protect your Galaxy S6 with an impact-resistant, slim-profile, hard-shell case. The image is printed directly onto the case and wrapped around the edges for a beautiful presentation. Simply snap the case onto your Galaxy S6 for instant protection and direct access to all of the phone's features!
Source: Solitude Galaxy S6 Case for Sale by Sarah Vernon
Take care and keep laughing!
Original & vintage art © First Night Design [www.firstnightdesign.wordpress.com]
Source: La Poire #2 Label | Zazzle
Take care and keep laughing!
Paul-François Quinsac (1858–1929) was a French artist who specialised in mythological and allegorical subjects, figures and landscapes.
His painting A Beauty in Violet (1909) was the perfect backdrop to create a faux-Victorian advertisement with vintage elements from The Graphics Fairy, including an intricate twirl for a headpiece, embellished with one of my embossed flowers that I created in the early days.

Déjeuner de Luxe Flask by FirstNightDesign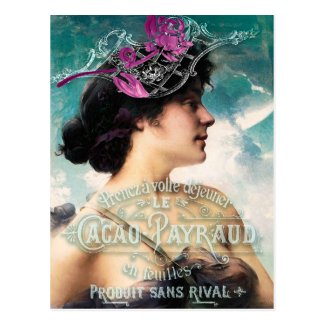 Déjeuner de Luxe Postcard by FirstNightDesign
Take care and keep laughing!
FROM THE ARCHIVE 12th November 2014
Created with a vintage lady from The Graphics Fairy and overlays from my texture collection.
Dance, Little Lady
'Tho' you're only seventeen,
Far too much of life you've seen,
Syncopated child.
Mayb…
FROM THE ARCHIVE 6th July 2014

Blue Bird of Happiness harks back to my early collages such as Postcard Kingfisher or Bird in the Hand for which I used vintage postcard backs with lovely squiggly handwriting. In this instance, I …
I created Solitude while I was still in Crete. Although I wasn't thinking so at the time, you could say it symbolises my yearning for peace and solitude, as well as freedom from fear and anxiety, all of which I know that my cottage on the Isle of Wight will provide, even though it doesn't look like the photograph by Antony Delanoix (Unsplash).  As you can see below, it's quite bland and thus a perfect starting point for my playing. I couldn't find any details but I imagine it's Greece or Turkey or some Mediterranean country.
I used a grungy yellow background from my arsenal and a texture from Kerstin Frank and, though I say it myself as shouldn't, I was delighted with the effect! Hope you are too.
---
"Solitude is fine but you need someone to tell that solitude is fine."
― Honoré de Balzac
---
---
---
"Literature is the most agreeable way of ignoring life."
― Fernando Pessoa, The Book of Disquiet
---

Solitude Watch by FirstNightDesign
Available at the following galleries:
Redbubble
Crated
Zazzle US
Zazzle UK
Fine Art America [14 fulfillment centers in 5 countries]
Saatchi Art
Take care and keep laughing!
This is an extremely early piece when I was only just beginning to realise what textures could do for a photograph. The windmill, from Wikimedia, is on the Île de Noirmoutier, an island that lies off the coast of France, and I used a filter from Snap Art, one of my background textures, and one from Skeletal Mess.
---
Windmill or no windmill, he said, life would go on as it had always gone on–that is, badly. Animal Farm by George Orwell
---

The Windmill Pack Of Standard Business Cards

The Windmill Postage
Available at the following galleries:
Redbubble
Crated
Zazzle US
Zazzle UK
Fine Art America
Fine Art England
Saatchi Art
Take care and keep laughing!
This is another of my moody ocean pieces. The original photograph is one taken by Mr. FND of a small boat off the coast of west Crete. Adding the 2LO Haunting 14 texture (multiply mode in Photoshop) from 2 Lil' Owls (bought via Design Cuts) created such a mysterious and dream-like feel to it that I wanted to do no more but display it for your delectation or otherwise!
I am way behind on uploading my images to the various galleries so this one is not yet for sale.
Take care and keep laughing!
Originally posted in The Paris Review.
Michelangelo couldn't afford ultramarine. His painting The Entombment, the story goes, was left unfinished as the result of his failure to procure the prized pigment. Rafael reserved ultramarine for his final coat, preferring for his base layers a common azurite; Vermeer was less parsimonious in his application and proceeded to mire his family in debt. Ultramarine: the quality of the shade is embodied in its name. This is the superlative blue, the end-all blue, the blue to which all other hues quietly aspire. The name means "beyond the sea"—a dreamy ode to its distant origins, as romantic as it is imprecise.
Derived from the lapis lazuli stone, the pigment was considered more precious than gold. For centuries, the lone source of ultramarine was an arid strip of mountains in northern Afghanistan. The process of extraction involved grinding the stone into a fine powder, infusing the deposits with melted wax, oils, and pine resin, and then kneading…
via A Brief History of Ultramarine—The World's Costliest Color.
---
"When a day that you happen to know is Wednesday starts off by sounding like Sunday, there is something seriously wrong somewhere."
― John Wyndham, The Day of the Triffids
---
If my father had appeared in the film version of John Wyndham's The Day of the Triffids (1963), I could probably recount some interesting story about filming that has never before been published. But he didn't. He did, however, have a part in the adaptation of Village of the Damned (1960). But I know nothing of his experience in that film!
Birth of a Triffid is my idea of how these monsters start life and bears no resemblance to any triffid living or dead. Just so's you know.
Available at the following galleries:
Redbubble
Crated
Zazzle US
Zazzle UK
Fine Art America
Fine Art England
Saatchi Art tba
Take care and keep laughing!