You are currently browsing the tag archive for the 'binders' tag.
Sold!
Remind me to create something new with these original cigarette cards or, rather, playing cards. They were sold to me as cigarette cards but a recent conversation online and a search to complete the set made me realise they were playing cards!
Take care and keep laughing!

Original & vintage art © First Night Design [www.firstnightdesign.wordpress.com]
Source: Pied Piper Collage Binder | Zazzle
Take care and keep laughing!
What a surprise to sell this card. I'd forgotten it even existed! I created it in 2010 by cobbling together some vintage adverts from my Play Pictorial collection.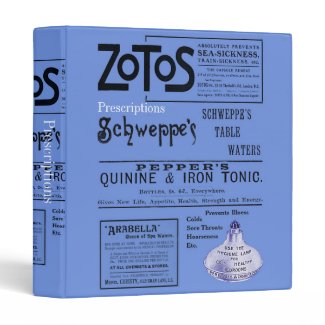 Antique Ads Binder by FirstNightDesign
Available from the following galleries:
Take care and keep laughing!
FROM THE ARCHIVE — JULY 2013

You can never have too many binders, trust me!…
See many more: An Abundance of Binders | First Night Design
I'm hot-footing it to the hospital tomorrow for my cataract operation. I leave you with some of my favourites for Valentine's Day. I should be back before then. Mind you, while one would normally expect to be in and out in a day with such a surgery, I'm told I have to stay in the night before and the night after. I'm spitting with rage at the ghastliness!
All of these pieces are my own except for Kissing on the Chaise-Longue which is a vintage postcard I restored.

You're the Cream in My Coffee Valentine Greeting Card by FirstNightDesign
Search for Love.
Search for Valentine.
Take care and keep laughing!
Just imagine you're living in the 19th century and want the perfect entertainment for Halloween. You could try The Haunting at the Theatre Royal. But beware the black cat!
Having just sold this Halloween card on Greeting Card Universe, it's clear that people are already thinking about 31st October and being spooked out by kids trick or treating!
Just in case you were wondering, there was never — to my knowledge — a Victorian play called The Haunting. The image was created with various bits of family ephemera and Photoshop's design tools, except for the black cat, which came (I think) from The Graphics Fairy.

The Haunting 4×9.25 Paper Invitation Cards at Zazzle

The Haunting Courier Bags at Zazzle
Available at the following galleries:
Zazzle US
Zazzle UK
Take care and keep laughing!
This is an extremely early piece when I was only just beginning to realise what textures could do for a photograph. The windmill, from Wikimedia, is on the Île de Noirmoutier, an island that lies off the coast of France, and I used a filter from Snap Art, one of my background textures, and one from Skeletal Mess.
---
Windmill or no windmill, he said, life would go on as it had always gone on–that is, badly. Animal Farm by George Orwell
---

The Windmill Pack Of Standard Business Cards

The Windmill Postage
Available at the following galleries:
Redbubble
Crated
Zazzle US
Zazzle UK
Fine Art America
Fine Art England
Saatchi Art
Take care and keep laughing!
This is a very early piece of digital art which I'd almost forgotten about. I hope it appeals to you. Have a superb weekend — I hear it's hotter in London than here in Crete. Perhaps we should return to the England for the summer!
Available at the following galleries:
Zazzle US
Zazzle UK
Take care and keep laughing!
---
"Those who are easily shocked should be shocked more often."
― Mae West
---

The Lady in the Big Hat #1 11 Cm X 14 Cm Invitation Card
I am always curious to know what customers are drawn to most and since Zazzle keeps adding search categories 'backstage', I nosed around in the 'Most Ordered' using the all-time option. I couldn't have been more surprised except for top spot going to The Playbills Binder as it's the only product I know sells like hot cakes at Christmas.
I never sell what I expect to sell! I guess there's a lesson in there somewhere that we should never assume owt nor think we know what the reality is.
Take care and keep laughing!

Pen and Ink Love Greeting Card
Although she won't know this until it's published, I have combined a delightful article from Pippa Rathborne's Last Post blog about love and the Brownings with some of my Pen and Ink products from Zazzle, which include Elizabeth Browning's famous sonnet.
Feeling weary, stale and unprofitable, I'd vowed to give up blogging for a while, but the always happy thought of Elizabeth Barrett and Robert Browning has spawned this self-indulgence.

As I mentioned before, I was named after Browning's Pippa Passes, and immersed by my mother in the love story of Robert and Elizabeth while I was growing up, Flush the spaniel and all. For a long time, as happens with history's celebrities, their romantic personae overshadowed the value of their individual work.
If ever there was one, theirs appeared to be a marriage of true minds. It is painful to consider the possibility that in reality he had a restricting effect on her writing, specifically on her social and political freedom of thought. Robert had trouble stopping Elizabeth from dressing their only child, their son Pen, as a girl. Ignore, ignore, forget, forget, facts are only the dreary letter, not the spirit of truth.

And, anyway, Pen grew up filial, amiable and cheerful, a lover of Italy, a restorer of a palazzo, a painter and a bon vivant. He did not inherit his parents' intellectual genius or determination, but he did not…
Continue reading: "How do I love thee?" collateral « LAST POST.
---

Pen and Ink Love Round Sticker
How do I love thee? Let me count the ways.
I love thee to the depth and breadth and height
My soul can reach, when feeling out of sight
For the ends of being and ideal grace.
I love thee to the level of every day's
Most quiet need, by sun and candle-light.
I love thee freely, as men strive for right.
I love thee purely, as they turn from praise.
I love thee with the passion put to use
In my old griefs, and with my childhood's faith.
I love thee with a love I seemed to lose
With my lost saints. I love thee with the breath,
Smiles, tears, of all my life; and, if God choose,
I shall but love thee better after death.
Elizabeth Barrett Browning
Sonnet 43, Sonnets from the Portuguese, pub. 1850

Pen and Ink Love 3 Ring Binder
Happy Valentine's Day!
Design available at the following galleries:
Zazzle (UK)
Zazzle (US)
Take care and keep laughing!
This is a special shout-out for British brothers Nick and Alex Verron who are undertaking a sky dive this Saturday in aid of the Make-A-Wish Foundation®.
Their mother, Sue Vincent, writes:
My sons are jumping for charity. Nick had decided the jump would make a nice birthday treat for his brother and paid the deposit, but raising money for a good cause was a major part of the whole thing. Nick, as some readers will know, is facing more than 'just' a skydive with this jump as he will be arriving at the airfield in his wheelchair to 'eat another elephant'. When he was attacked, when things looked very bad, we had so much support from people across the world… many complete strangers back then… and in so many ways. The messages we still have and they still touch the heart every time they are read. It makes a huge difference when you are living through hellish circumstances to know people actually care.
To read a little more about the sky dive and what Nick and his family have been and continue to cope with, see the Facebook page.
Nick writes:
In 2009, aged 25, I was stabbed through the brain and left for dead in an alley, in a profound coma.

I suffered extensive brain damage and underwent major brain surgery. They did not think I could survive.

I was initially paralysed down the right side from the damage. I am now unable to walk and get around in a wheelchair. My sight is severely reduced, double and bounces.

And I am going to jump out of an aeroplane to raise funds and awareness for the Make a Wish Foundation, a charity that grants wishes to children facing life threatening conditions.

My younger brother has been with me every step of the way. It seems only right that he should be with me in this.. so Alex and I will be jumping together.

We have never jumped before.

Please help us make a difference… and help me say a small thank you for all the help I have been given in the past five years.

Please sponsor us now!

Donating through http://www.doitforcharity.com/nickv is simple.

My charity will receive your money quickly and easily and if you are a UK taxpayer an extra 25% in tax will be added to your gift at no cost to you.

Many thanks for your support,

Nick and Alex Verron
Reach for the Sky, lads! We'll be thinking of you.
Take care and keep laughing!