You are currently browsing the tag archive for the 'binders' tag.
Sold!
Remind me to create something new with these original cigarette cards or, rather, playing cards. They were sold to me as cigarette cards but a recent conversation online and a search to complete the set made me realise they were playing cards!
Take care and keep laughing!

Original & vintage art © First Night Design [www.firstnightdesign.wordpress.com]
Source: Pied Piper Collage Binder | Zazzle
Take care and keep laughing!
What a surprise to sell this card. I'd forgotten it even existed! I created it in 2010 by cobbling together some vintage adverts from my Play Pictorial collection.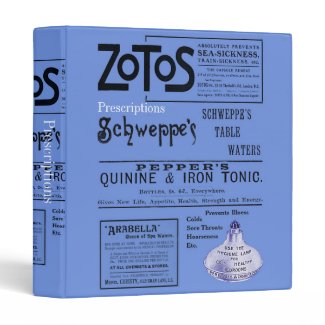 Antique Ads Binder by FirstNightDesign
Available from the following galleries:
Take care and keep laughing!
FROM THE ARCHIVE — JULY 2013

You can never have too many binders, trust me!…
See many more: An Abundance of Binders | First Night Design
I'm hot-footing it to the hospital tomorrow for my cataract operation. I leave you with some of my favourites for Valentine's Day. I should be back before then. Mind you, while one would normally expect to be in and out in a day with such a surgery, I'm told I have to stay in the night before and the night after. I'm spitting with rage at the ghastliness!
All of these pieces are my own except for Kissing on the Chaise-Longue which is a vintage postcard I restored.

You're the Cream in My Coffee Valentine Greeting Card by FirstNightDesign
Search for Love.
Search for Valentine.
Take care and keep laughing!
Just imagine you're living in the 19th century and want the perfect entertainment for Halloween. You could try The Haunting at the Theatre Royal. But beware the black cat!
Having just sold this Halloween card on Greeting Card Universe, it's clear that people are already thinking about 31st October and being spooked out by kids trick or treating!
Just in case you were wondering, there was never — to my knowledge — a Victorian play called The Haunting. The image was created with various bits of family ephemera and Photoshop's design tools, except for the black cat, which came (I think) from The Graphics Fairy.

The Haunting 4×9.25 Paper Invitation Cards at Zazzle

The Haunting Courier Bags at Zazzle
Available at the following galleries:
Zazzle US
Zazzle UK
Take care and keep laughing!
This is an extremely early piece when I was only just beginning to realise what textures could do for a photograph. The windmill, from Wikimedia, is on the Île de Noirmoutier, an island that lies off the coast of France, and I used a filter from Snap Art, one of my background textures, and one from Skeletal Mess.
---
Windmill or no windmill, he said, life would go on as it had always gone on–that is, badly. Animal Farm by George Orwell
---

The Windmill Pack Of Standard Business Cards

The Windmill Postage
Available at the following galleries:
Redbubble
Crated
Zazzle US
Zazzle UK
Fine Art America
Fine Art England
Saatchi Art
Take care and keep laughing!
This is a very early piece of digital art which I'd almost forgotten about. I hope it appeals to you. Have a superb weekend — I hear it's hotter in London than here in Crete. Perhaps we should return to the England for the summer!
Available at the following galleries:
Zazzle US
Zazzle UK
Take care and keep laughing!