You are currently browsing the category archive for the 'Photography' category.
Photo post.
Source: Dirk de Herder (1914-2003) – Art Bacchant
For Claude Cahun, resisting normalcy was a lifelong pursuit. Born in 1894, she was a genderqueer pioneer, Jewish Nazi fighter, and radical collage artist. The French photographer's self-portraits are a focused interrogation of identity and gender fluidity. Rediscovered in the 1990s, her work reminds us that the impact of one person's refusal can ripple for centuries.
The daughter of prominent Jewish publishers, Cahun was born…
Source: This queer Jewish photographer resisted the Nazis and escaped death—and made great art
Some of you know that I had another eye appointment at the hospital on Thursday. The scar tissue was removed by laser, which was fairly painless. I might see a difference in a couple of days but there was talk about it taking six weeks.
AAAGGHHRRR!
No change so far. I've always said I was on this earth to learn patience and so it remains. I shall keep smiling and laughing. Because that's what I do!
And now to the real point of the post.
About a year ago, dear Marilyn of MKG- Memories-Keepsakes-Gifts bought one of my prints from Crated. She has now found the perfect frame, as above, and it's going to look fabulous in her new kitchen. Thank you, Marilyn, for posting about it.
However, took a while for me to realise to whom she was referring:
I first represented this as "Lillian Vernon"… my mistake!… That name always comes to mind when reading Sarah's Blog… I had read and heard of "Lillian Verno…

Source: Sarah Vernon Print – I Found IT! | MKG- Memories-Keepsakes-Gifts
Anyone who is friends with me on Facebook will have seen the photograph below. For anyone else, it just so happens that I bought the same print as Marilyn about six weeks ago from Redbubble and with a frame.
As you can see, it hangs above my kitchen sink. I get such a kick out of it. I'm pretty smitten also with my black tap with a white handle, which is from Ikea and the best and easiest mechanism I've ever tried.
It replaces what I thought was a beautifully sinuous — apparently very expensive — chrome tap installed by the previous owner but it was a painful ordeal for my fingers.
And that's it for now.
Take care and keep laughing!
Anthony Armstrong-Jones, society photographer and royal paramour, is dead, aged 86.  As royal portraits went, it didn't get more intimate than this. In 1962, Anthony Armstrong-Jones sat on a …
Take care and keep laughing!
Gregory Colbert's Ashes and Snow is an ongoing project comprised of photographic artworks, a one-hour film and two short film "haikus", temporary traveling art installations, and a novel in letters…
Source: "Ashes and Snow " by Gregory Colbert #Art #Photography – The Last Island
The fragrance of flowers spreads only in the direction of the wind. But the goodness of a person spreads in all directions. Chanakya
"Daffodowndilly
She wore her yellow sun-bonnet,
She wore her greenest gown;
She turned to the south wind
And curtsied up and down.
She turned to the sunlight
And shook her yellow head,
And whispered to her neighbor:
"Winter is dead."
― A.A. Milne, When We Were Very Young
"Yellow is a very favorable vibration for mental or intellectual activity, as it promotes a clear state of mind. Yellow heightens your awareness and alleviates depression, sadness, or any kind of despondency. Yellow vibration foods are: pineapples, bananas, grapefruit, lemons and corn."
― Tae Yun Kim, The First Element: Secrets to Maximizing Your Energy
Available at the following galleries:
Redbubble
Crated
Zazzle US
Zazzle UK
Fine Art America [14 fulfillment centers in 5 countries]
Saatchi Art
Take care and keep laughing!
It's not often I think my photography is good enough for public consumption, which is why I so often play around with it using textures and the like. In this instance, I surprised myself by liking it enough to let it stand. Who'd 'ave thunk!
It was with this bunch of roses that I christened my new home. Bought on Friday from the local supermarket, they don't have much of a fragrance but they sure as hell look good.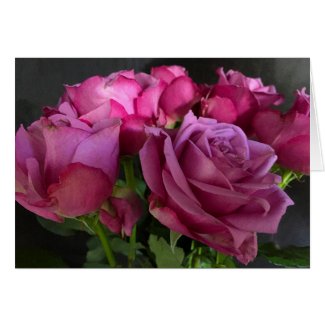 Pink Chiffon Card by FirstNightDesign
Available at the following galleries:
Redbubble
Crated
Zazzle US
Zazzle UK
Fine Art America [14 fulfillment centers in 5 countries]
Saatchi Art
Take care and keep laughing!
Dear All,
This coming week, I shall be moving into my cottage and only sporadically on the internet. I will catch up properly as soon as I can. In the meantime…
Take care and keep laughing!
Since the above isn't the kind of work I normally do, I'm not at all sure whether the image is effective. It's part of a photograph of a rose I took a few days ago. It wasn't actually snowing — I was inside — but I 'painted' it in Corel Painter and purposely left the specks of white as if there had been a gentle sprinkling of snow…or does it look like dandruff? I finished it off with a texture by Kerstin Frank. Does it have any appeal?
---
"It is the time you have wasted for your rose that makes your rose so important."
― Antoine de Saint-Exupéry, The Little Prince
---
Take care and keep laughing!
On the 29th of June 1886, the largely self-taught African-American photographer James Van Der Zee was born in Lenox, Massachusetts. He became the leading photographer of the Harlem Renaissance, als…
Source: James Van Der Zee: Life and Death in Harlem | A R T L▼R K