The original vintage photograph is a view from campanile San Marco, Venice, Italy ca. 1895, and it is divine, I confess. But how could someone like me resist ageing it further?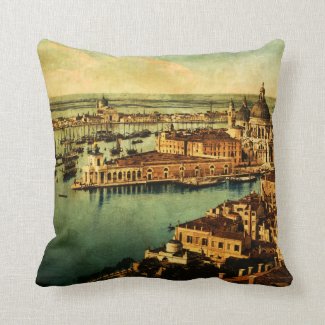 Venice Observed Throw Pillow by FirstNightDesign
The title I have chosen is a play on the name of a verse piece by Christopher Fry, Venus Observed, which premiered in 1950 at the St James' Theatre in London and was directed by Laurence Olivier, who also starred. The cast also included such names as Rachel Kempson (mother of Vanessa Redgrave and her late siblings), the irreplaceable Denholm Elliott, and Brenda de Banzie whom film buffs will remember from Hobson's Choice.
Of course, it might have been a nod to Mary McCarthy's 1963 book about the sinking city, Venice Observed, but it isn't. Naturally, it's not — I'm an actress, dah-lings!
I've layered texture Divine-4 from Design Cuts over the top in Overlay mode (Photoshop) and duplicated the photograph which I've put in Multiply mode.
Available at the following galleries:
Redbubble
Crated
Zazzle US
Zazzle UK
Fine Art America [14 fulfillment centers in 5 countries]
Saatchi Art
Take care and keep laughing!