It's not often I think my photography is good enough for public consumption, which is why I so often play around with it using textures and the like. In this instance, I surprised myself by liking it enough to let it stand. Who'd 'ave thunk!
It was with this bunch of roses that I christened my new home. Bought on Friday from the local supermarket, they don't have much of a fragrance but they sure as hell look good.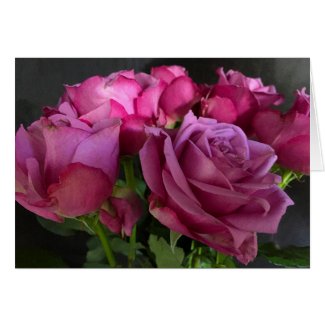 Pink Chiffon Card by FirstNightDesign
Available at the following galleries:
Redbubble
Crated
Zazzle US
Zazzle UK
Fine Art America [14 fulfillment centers in 5 countries]
Saatchi Art
Take care and keep laughing!