Created in Photoshop with an image by Fabien Barral, a Victoria Cross from Wikimedia, my own textures and photos of my relations including my great-uncle, Captain Norman Austin Taylor, who was killed in France on 18th March, 1918, and is buried in the war cemetery at Étaples.
'Five foot ten of a beautiful young Englishman under French soil. Never a joke, never a look, never a word more to add to my store of memories. The book is shut up forever and as the years pass I shall remember less and less, till he becomes a vague personality; a stereotyped photograph.' Written by grandmother, Joyce Hoskyns née Austin Taylor
GREAT UNCLE NORMAN: 'SHOT BY A SINGLE SNIPER'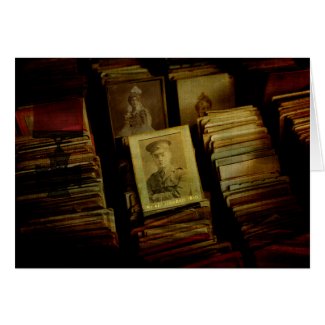 Remember the Fallen Card by FirstNightDesign
Available at the following galleries:
Redbubble
Crated
Zazzle US
Zazzle UK
Fine Art America [14 fulfillment centers in 5 countries]
Saatchi Art
Take care and keep laughing!