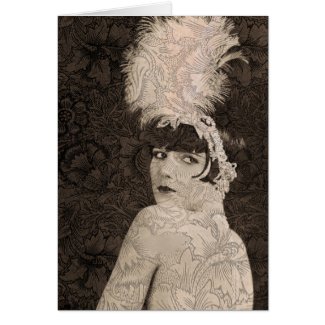 Lulu in Hollywood Card by FirstNightDesign
Reposting the incomparable Tallulah yesterday gave me a taste for creating another of my Hollywood images à la Edward Steichen. I found an image of silent film star Louise Brooks from Hello-Tuesday and used the vintage wallpaper from MGB Stock that I've used previously (DeviantArt). It is, I believe, a still from Pandora's Box (1929) — 'The rise and inevitable fall of an amoral but naïve young woman whose insouciant eroticism inspires lust and violence in those around her.' This time, however, I have done it slightly differently and given her a background of the wallpaper in its original form. The effect of this can be better seen if you click on Saatchi Art or  Fine Art America.
---
"I have a gift for enraging people, but if I ever bore you it will be with a knife."
― Louise Brooks
---
---
"I never gave away anything without wishing I had kept it; nor kept anything without wishing I had given it away."
— Louise Brooks
---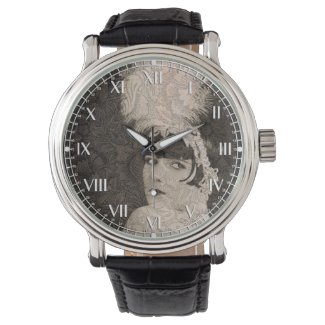 Lulu in Hollywood Wrist Watches by FirstNightDesign
Available at the following galleries:
Redbubble
Crated
Zazzle US
Zazzle UK
Fine Art America [14 fulfillment centers in 5 countries]
Saatchi Art
Take care and keep laughing!