I don't do cute but sometimes cute gets the better of me. This was the case when working on Curious Kittens, created with a too-sweet-for-its-own-good Victorian picture from The Graphics Fairy. I wanted to introduce an atmosphere that would turn it into something a little less prosaic, a little less 'aahs', and with greater depth to the colours. Adding one of my reddish textures in Subtract mode (Photoshop) has given it an entirely different atmosphere, while the green palette makes the goldfish bowl a much more interesting proposition to look at. That's what I feel anyway!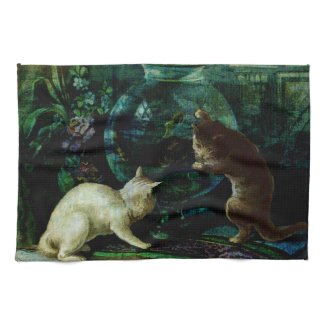 Curious Kittens Towel by FirstNightDesign

Curious Kittens Wrist Watches by FirstNightDesign
Take care and keep laughing!