My internet connection is even worse today so no chance of doing a new post. Here's a Valentine one from a year ago. I am aware that you've seen the first one recently!
First Night Design
One of the most insightful of quotes about love and the nature of relationships comes from William Shakespeare and features on an early design of mine.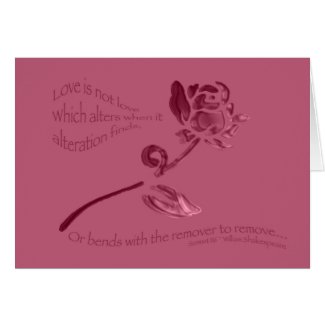 Love is Not Love… Card by FirstNightDesign

"Love is not love which alters when it alteration finds, or bends with the remover to remove." Shakespeare, sonnet 116
It is easy to forget this when young.  Desperate for love after a confusing  and contradictory set of lessons from childhood, I would constantly alter and bend in my late teens and early 20s.  This is not love.  If the object of your affections wants to mould you a certain way, or you get the feeling he or she is not going to like you if you behave a certain way, this is not love.
If someone loves you, they love you, warts and all, and it matters not a jot if you have heavy thighs or a…
View original post 290 more words